SAP HANA Cloud Platform's App-Services Layer Speeds Mobile, IoT Projects
So far it's been a busy spring for SAP. The company has optimized its HANA cloud platform for both mobile and Internet of Things to help make it faster and easier for IT to build, launch, run and manage such projects. IDN talks with SAP's Jim Jaquet.
by Vance McCarthy
Tags: analytics, cloud, HCP, HANA, hybrid, Internet of Things, integration, IoT, mobile,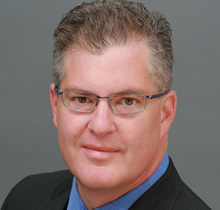 Jim Jaquet
senior director
of developer relations


"Thanks to our app-level services layer in SAP HANA Cloud Platform, you can easily access many services."
CLOUD-CON
Integration & Web APIs

Enterprise-Grade Integration Across Cloud and On-Premise
June 25

SAP has optimized its HANA cloud platform for both mobile and Internet of Things.
By enriching the SAP HANA Cloud Platform with app-level services, SAP aims to provide seamless and specialized end-to-end app platforms. The result: developers, testers and IT operations will be able to work better together – and make it faster and easier to build, launch, run and manage app projects, according to Jim Jaquet, SAP's senior director of developer relations.
At the heart of SAP's app-centric cloud platform is a foundation of SAP HANA Cloud Platform's high-performance, cloud-based infrastructure. Hosted by SAP, HCP is enriched with an app-services layer brimming with easy-to-access capabilities and services. In addition, the capabilities are customizable and available without complex coding.
"It takes only about five minutes to create a HANA [Cloud Platform] account. Once you have the account, thanks to our app-level services layer in SAP HANA Cloud Platform, you can easily access many services, " Jaquet told IDN.
Enter the HANA Cloud Platform for IoT and HCP for mobile services. Both leverage this architecture as a way to offer a broad and deep feature list optimized for each type of app.
Here's a look at each:
SAP HANA Cloud Services for Internet of Things. At the SAP SAPPHIRE NOW event in Orlando, SAP showed how it is leveraging HANA cloud-based data and application services for IoT This support takes advantage of HCP's integration and messaging, predictive analytics, telematics, geo-location and management (for data and devices).
The result: HANA Cloud Platform for IoT lets customers connect core business apps and analytics platforms all the way to data, processes and devices at the edge of the network. "Customers and partners now have the ability to connect anything to any app or business process in their company and business network," said Steve Lucas, president of SAP Platform Solutions in a statement.
Further, to make it easy for customers to deploy IoT applications at the edge, SAP will include for a limited time free and unlimited access to the SAP SQL Anywhere suite, lightweight embeddable databases for remote devices with HCP for IoT. SAP is also offering a portfolio of ready-built IoT applications (e.g. SAP Connected Assets, SAP Connected Logistics, etc.).
SAP's HCP for IoT architecture is also extensible with third-parties. Teaming with Intel, SAP aims to simplify IoT end-to-end deployments for enterprises. The two are working on a joint proof of concept (POC) to integrate the Intel IoT Gateway with the SAP HANA Cloud Platform for IoT.
For companies skittish about a public cloud, SAP will offer private cloud deployments to allow customers to run their own 'device cloud' or to operate one for their customers.
HANA Cloud Platform for mobile services. HCPms integrates the key steps across design, provisioning and management services to speed up the launch of mobile apps.
Among key services mobile app lifecycle services are:
Data synchronization services for mobile apps – whether data at rest and data in motion – via SAP Mobile Platform 3.0. This also supports new authentication protocols and high-availability clustering.
One-click deployment to SAP Mobile Place, an enterprise-class MAM (mobile app management) capability for apps running on both managed and unmanaged devices.
Management and security for mobile apps, content and devices via interoperability with SAP Mobile Secure. Admins also gain a new UI, consistent with the look and feel of the SAP Fiori user experience. This keeps administrative tasks simple and efficient.
Common API for building online and offline applications, APIs to speed access to multiple data sources, push notification API and the ability to deliver 'omni-channel apps that work on web, mobile, etc.
Simplified backend integration to let devs easily talk to OData-based SAP systems. "We've made even complex integrations very easy now. Notably, SAP lets devs tap into a single, unified OData endpoint that lets their mobile app access multiple back-ends (endpoints, protocols, etc). We can create a mashup service that will translate data bi-directionally, so it works with data coming in and out to the mobile app," Jaquet told IDN.
A built-in 'mock data' capability allows devs to go from dev-to-test and pre-production. The feature is part of SAP's tooling (SAP web IDE) to let devs tell the IDE what data the app is expecting. "We worked very hard on this to provide a design by contract approach. This way, front end development can [be done] in parallel with backend," Jaquet added.

To integrate with non-SAP systems, devs use familiar JDBC, SOAP, REST and open APIs. It also works with SAP's Mobile Application Development Platform (MADP) to open access to multiple backend databases and services.
Mobile devs can also quickly build native and mobile apps by working with the SAP Mobile Platform SDK and SAP Web IDE.
SAP HANA Cloud Platform (for Any App Lifecycle) – The Big Picture
Looking at the 'big picture' and one can envision that with HANA Cloud Platform, SAP is seeking to provide app-level services to create new streamlined and simplified approaches to designing and launching any type of new-gen apps that need integration to outside data, apps, content and devices.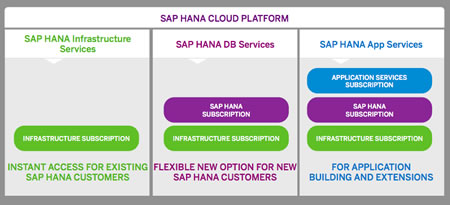 The key is to define the cloud's role in setting out a new approach to app lifecycle management. SAP's HCP is designed to let developers easily take advantage of a high-performance cloud infrastructure with in-memory compute, real-time performance, extreme scale and manageability – and still let them use the SDKs, APIs and other languages they know well.
One benefit, if done right, will be a speedier (less complex and more accurate) way to take apps from coding to launch. SAP's Jaquet described how HCPms' seamless approach between design-time and runtime takes a lot of the hassle out of provisioning for a mobile app.
There were a couple of things we looked at to make end-to-end mobile projects easier for everyone. By 'everyone,' Jacquet refers to three main groups – UX developers, IT admins and end users. "You really have to think about the needs of each," he explained.

With this end-to-end thinking, the results can be eye-popping – especially when it comes to going from development-to-launch.
"With this [HCPms] release, if you build a mobile app for SAP Mobile Platform 3.0 you don't have to touch the app. Just point the provisioning information (from the app) to go to your cloud endpoint and the app runs. There's no need to recompile, reconfigure – you don't have to do anything to it. It just runs," Jaquet added.
Today, while many of SAP's largest customers still opt to run mobile apps using on-premises data centers and other resources, cloud-based mobility is gaining. "For most companies, cloud is a strategic direction," he said.