Kaseya Looks To Take Bite Out of Cost, Complexity of Mobile Management
Kaseya is looking to take a bite out of the cost and complexity of mobile device and app management, especially for small and mid-sixed firms. Kaseya Release 9's cloud-based IT management powers easy-to-use EMM at an eye-popping price point. IDN speaks with Kaseya exes.
by Vance McCarthy
Tags: BYOD, cloud, EMM, Kaseya, IT management, MAM, MDM, mobile management, onboarding, security,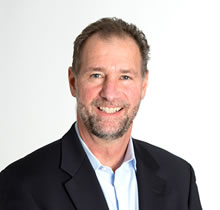 Tom Hayes
vice president


"Mobile management, especially for smaller and mid-sized companies, is just too hard and too expensive."
Mobile IT Summit

Mobile as a Platform for Innovation with BYOD, B2C & Enterprise Apps
April 23, 2015

An Online Conference
Kaseya is looking to take a bite out of the cost and complexity of mobile device and app management, especially for small and mid-sixed firms.
Kaseya Release 9's cloud-based IT management powers easy-to-use enterprise mobile management (EMM) at an eye-popping price point. "Mobile management, especially for smaller and mid-sized companies, is just too hard and too expensive," Tom Hayes, Kaseya's vice president of product marketing, told IDN.
In specific, Kaseya EMM sports many items on the checklists of mobile-minded and cost-conscious small and mid-sized businesses, including:
MDM (mobile device management)
BYOD management
MAM (mobile app management)
Faster user onboarding
Quick app deployment, using wizard-driven and pre-defined policy and security settings
Always-on security for mobile apps and data (whether 'at rest' on the device or 'in transit' during communications back and forth from the device)
Integration with Active Directory, allowing IT to use AD to send users' email to register for permissions, and obtain credentials to access mobile apps
Easy-to-follow IT administration from a single view dashboard
Among Kaseya's list of EMM features, there is one that customers ask about constantly.
"Security is the number one question we get," Hayes said. "Businesses are always looking for ways to give their users more mobile access, but they are also desperately worried about what happens to their data once it hits a mobile device, or even while on its way."
Kaseya EMM took these dual concerns into account, adding two-tiers of technology to secure mobile data end-to-end.
For 'data at rest' on the mobile client Kaseya offers encryption-enabled containers for business apps and data on a mobile device.

For 'data in transit' during communication Kaseya offers an encryption-enabled tunnel between the mobile device and the backend to secure apps and data as it moves back and forth.
One analyst found Kaseya's design for mobile management will be compelling for IT admins who feel overwhelmed by all the variety and complexity. "Kaseya has integrated key MDM and BYOD capabilities to deliver a centralized management experience that will simplify administrative efforts while strengthening security and enhancing mobile user productivity," noted Steve Brasen, managing research director at Enterprise Management Associates.
But beyond easier technology, Kaseya's EMM also looks to appeal to customers also looking for lower costs, Hayes said.
"Managing mobile is still too expensive for many companies," Hayes said. "Many vendors charge $4-$5-$6 per month / per device. That gets very pricy, especially when your users have more than one device." Kaseya EMM is priced at $1 per month / per user – no matter how many devices each user has.
"We know that's price is disruptive in this [mobile] space. But, we believe that's where the market needs to get to. It's not just the complexity of EMM, it is the cost that keeps many millions of [mobile] devices from being properly managed," Hayes said.
How Kaseya Delivers Tough-Yet-Simple Security & Management for Mobile
At that low a price-point, some may worry they are making a tough trade-off, sacrificing some important security or management.
Kaseya CEO Yogesh Gupta insisted that is not the case. He spelled out some of the architectures and features his team used to deliver high-quality / low-complexity security that will attract small and mid-sized firms.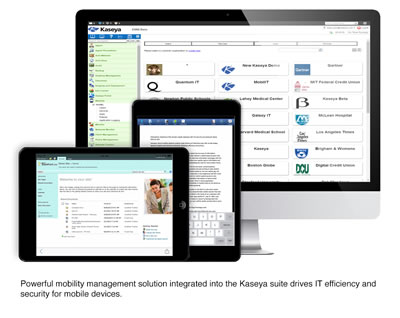 Device Containers. Kaseya's specialized managed apps that use containerization to secure sharing of documents, as well as HTML5-based browser access. "We keep all data in the container and we encrypt all the data in the container. So, the data is only accessible through the app, which authenticates the person before they can access the data, Gupta told IDN.
Protected Communications. Separate-but-complementary to the device containers, Kaseya's cloud infrastructure encrypts end-to-end communications to and from mobile devices. "So, end-to-end everything is insulated. This way, the data cannot be hijacked. It is tunneling without the user having to start up a VPN. The connection to the cloud keeps this tunnel in effect, and when [the data] arrives to the mobile client, it is then handed off to the [local] container," Gupta said.
Hayes noted Kaseya EMM has yet a third feature to keep security simple: An intuitive, wizard-driven UI for fast and accurate policy set-up and management.
"We let IT pre-define policies with a few clicks that set them at 'High,' 'Medium,' or 'Low.' This means they can quickly deploy governed apps without errors, and don't need to use dozens of configuration combinations," he said. "So, as an example, you can say all of my finance users have a particular security policy and that needs to apply to any devices they have. To do that, it's a really simple UI, where you just hit next-next-next, and finish."
Here's an example of Kaseya's click-driven policy set-up.
Security Profile (read-only):
Mobile access requires PIN entry –
If enabled, requires an app-level PIN (passcode) every time you launch the app.
If enabled, will prompt the user to create a passcode the first time the user attempts to access the app.

Note: MDM Preset Profiles may enforce a device-level PIN as well. The two PINs are independent of each other.


Only if enabled by user.

Whenever application is activated:


After [N minutes] (time interval) application is inactive.

Mobile access requires password entry every - N minutes, hours or days.


Users may email item content to others - Yes / No.

Users may open item content with non suite apps - Yes / No.

Users may save images to device's photo library - Yes / No.

Users may print non-suite content - Yes / No.

Users may copy / paste to non-suite apps - Yes / No.


If No, a paste blocked by policy message.
Kaseya's EMM is available for both IT admins and third-party managed service providers (MSP).
Kaseya's Hayes said making EMM available to MSP, which can in turn offer it to smaller firms as an affordable third-party service will also broaden EMM adoption.
One Kaseya MSP partner agreed, "Kaseya Release 9 will allow us to deliver on our mobility initiatives with the highest levels of security, availability and performance, while also driving significant time savings. . . [F]rom a single interface, we can achieve automation across all of our clients," Glenn Kemp, director of technical services for Clear Concepts Business Solutions, said in a statement.
Beyond EMM, Kaseya also enriched its core IT management cloud offering to provide better scalability, security and performance.