Visa Looks To Modernize BPM, Cash Management with Next-Gen Smart Process App Platform from Kofax
A unit of Visa, one of the world's largest payment networks, is using next-gen smart process technologies from Kofax Ltd. to better automate and manage complex and valuable B2B accounts payable and receivables. In specific, a corporate cash flow management project for Visa's Asia Pacific region will update invoicing and related data systems.
by Vance McCarthy
Tags: analytics, APIs, BI, BPM, case management, content management, ECM, ETL, Kofax, integration, mobile, omni-channel, patents, real-time, SPA, smart process, visualization,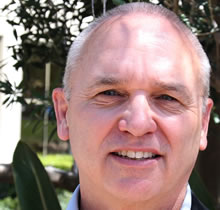 Dave Calderia
senior vice president,
product and solutions marketing


"We give customers ways to interact in real-time with process, content and analytics to uncover 'The Happy Path' [for] better decision-making."
A unit of Visa, one of the world's largest payment networks, is using next-gen smart process technologies from Kofax Ltd. to better automate and manage complex and valuable B2B accounts payable and receivables.
BPM-CON

Faster, Smarter, Dynamic Process & Case Management
May 28

An Online Conference
With this project, Visa execs decided it was time to modernize their traditional BPM with a new more agile platform that could better support the rapidly changing e-payments space, and even anticipate coming changes. Working with the Kofax TotalAgility smart process application (SPA) platform, the project will deliver a modern corporate cash flow management project for Visa's Asia Pacific region, updating legacy invoicing and related data systems.
Looking to leverage this SPA platform approach into the future, Visa also wanted what she called a 'frictionless' B2B platform -- one that could reduce complexity and delays often associated with financially-related processes, according to Olivia Leong, head of Visa Asia Pacific's commercial and prepaid payment solutions.
"The starting point in developing a frictionless solution for businesses was the recognition of the challenges that organizations face today in accounts payable and receivables processes," Leong said in a statement. "We focused on ways to reduce the typical friction that exists between these processes."
Visa's thirst for smart more real-time BPM is a theme that Kofax expects to see more of in 2015. "Companies are looking for BPM to do more than automate fixed processes," said Dave Calderia, Kofax senior vice president for product and solutions marketing. "They want a more agile and even real-time way to react to more unpredictable process activities, especially when it comes to customer engagement," he told IDN.
Enter the Kofax TotalAgility SPA platform. Kofax approach to SPA brings together a set of savvy technology components into a unified lifecycle for smart process apps – from design, development and operations. Kofax infuses agile BPM and dynamic case management with a high-degree of data integration, analytics and content-centric capabilities.
"Kofax TotalAgility is designed to support a full SPA lifecycle, offering a unified development and deployment platform that provides a critical link between systems of record, such as ERP and CRM, and systems of engagement," Calderia explained. This link lets companies expand on their BPM and case management solutions, and provide knowledge workers smarter ways to interact with customers and partners.
Inside Kofax Architecture for Smart Process Apps
Kofax TotalAgility's flexible platform minimizes the need to modify existing systems. It supports batch and transactional content capture, along with omni-channel capabilities across legacy, web, mobile and more. It is available on-premises or as a hosted SaaS subscription offering, he added.
Architecturally, Visa Asia Pacific's B2B transaction information systems will leverage with Kofax TotalAgility platform, alongside two other products Kofax Kapow (for rich content capture) and Kofax Altosoft Insight (for business analytics). The three (3) together will deliver Visa Asia Pacific several key benefits: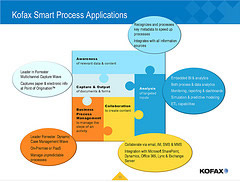 Ability to automatically capture details (e.g. dates, product descriptions, service descriptions, amounts, etc.) to enable a three-way match of crucial financial documents (such as purchase orders, invoices and even payment instructions). This will eliminate time-consuming manual intervention to achieve both efficient reconciliations and payments.
Provide and analyze accurate and timely data to enable greater visibility into expenditures, collections and cash flow management.
Deliver data in multiple / flexible formats. This will better enable organizations to seamlessly integrate updated or new information into existing ERP apps and other existing systems of record.
Calderia shared how the three Kofax SPA components work together to provide equally valuable solutions for other industries aside from financials, including healthcare, logistics and government.
When Kofax TotalAgility works alongside Kofax' content and analytics offerings, SPA apps get even smarter – and provide more value, insight and more informed customer engagement. "When smart process apps can access more information, they help workers better understand the context of a certain process or transaction, and make a more informed decision," Calderia said. He also described how Infusing Kofax SPAs with more content (Kofax Kapow) and deeper analytics (Kofax Altosoft Insight) works.

Kofax Kapow delivers SPAs more content & content. Kapow identifies and captures relevant types of structured and unstructured content into SPAs. It can come from web pages, columnar data, images, streams, tweets, signatures and many other types of unstructured data. To access all this data, Kapow uses various techniques, including APIs, data integration and auto-capture technologies. Kapow can even build "synthetic APIs" to talk about data sources that did not have a formal API.
Kapow brings benefits to IT and business users. Because Kapow connects apps and data not meant to be connected, it can link SPAs, systems of engagement and systems of record more quickly and at low cost, without hand-coding. For non-technical business users, Kapow sports a snazzy drag-and-drop design environment that makes it easy to build automated 'robots' that can continue to monitor and capture diverse information-intensive apps and other cross-app activities.
Kofax Altosoft Insight delivers SPAs more analytics & insights. "Beyond content, workers also need to have real data so they can see what happens if they make a certain decision," Calderia said. "Will I create a successful outcome -- or introduce risk?"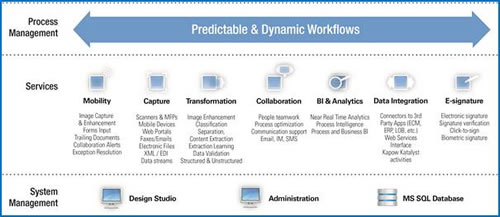 Kofax Altosoft Insight features rapid, no-coding development, near real-time reporting, dashboard, visualization and ETL (extract, transform, load) capabilities for both data and process analytics. It can also integrate real-time event monitoring and process optimization with powerful BI (business intelligence) and analytic solutions. "This means workers can use analytics to evaluate processes, cases or decisions – even in real-time or while in flight," he told IDN, adding "These analytics are all about understanding how to create what we call 'The Happy Path' or the most positive outcomes"
"We give customers new ways to interact in real time with process, content and analytics, we can help uncover 'The Happy Path,' or better understand of a decision making process," Calderia said, adding this power can be used for historical trends or even in-flight decision. "Thanks to analytics, Kofox can digest trends from earlier or similar actions to make recommendations about how to handle a certain situation happening right now, he added.
Kofax executive vice president of field operations Howard Dratle described the result of delivering Visa's 'Happy Path' this way:
"Visa selected the Kofax platform based on four very important criteria -- flexibility, accuracy, timeliness and efficiency -- in managing transactional information. In doing so, we are able to help Visa address key challenges that plague businesses when managing payable and receivable processes," Drake said in a statement.
Kofax Latest Patents Push Onmi-Channel Capabilities
Kofax also reported more progress on the omni-channel front, noting it has received three new patents for advanced mobile technology by the United States Patent and Trademark Office (USPTO).
The latest Kofax patents are in mobile image capture, document analysis, and page / blur detection and video capture. They will provide organizations with powerful, interactive capture and process management capabilities for mobile apps and extend self service capabilities to their customers, according to a Kofax statement. The company now has 54 issued patents and 60 pending applications.