SOA Software's EnVision Platform for API Analytics Brings New Level of Business, Technical Insights
As enterprise APIs take off, execs are now looking for better business analytics to help them see how successful (or not) their API projects really are. SOA Software is responding with EnVision, a new level of API analytics platform that integrates business and technical metrics for insights previously unavailable. IDN speaks with SOA Software's Sachin Agarwal.
by Vance McCarthy
Tags: analytics, API, big data, dashboard, EnVision, MapReduce, MongoDB, R, Splunk, SOA Software, visualization,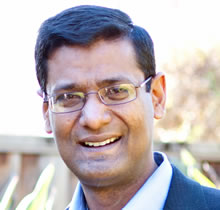 Sachin Agarwal
vice president


"EnVision will deliver more intelligence and actionable insights about how APIs impact operations and business."
As enterprise APIs take off, execs are now looking for better business analytics to help them see how successful (or not) their API projects really are. SOA Software is responding with EnVision, a new level of API analytics platform that integrates business and technical metrics for insights previously unavailable.
Big Data in Motion Summit

Manage Expanding Data Volumes for Analytics & Operations
Jan 29, 2015

Online Conference
EnVision is architected to provide critical insights from a variety of interactions occurring across the API-driven digital ecosystems. The latest API offering from SOA Software lets companies not only see how often an API is being used, but to better understand the full range of customers and partner activities triggered by that API, SOA Software's vice president of product marketing Sachin Agarwal told IDN. As a result, EnVsion delivers one of the clearest pictures yet of how APIs contribute (or not) to the company's bottom line, he added.
"As APIs become more crucial, executives want more visibility and control over them. EnVision will deliver more intelligence and actionable insights about how APIs impact operations and business.. With EnVision, customers can understand many more of the key API metrics that affect their business outcomes, and even more importantly give them the insight to take correct actions to further optimize and achieve growth with APIs," Agarwal said.
SOA Software CTO Alistair Farquharson described EnVision this way:
"EnVision allows businesses to gain intelligent insights by collecting, introspecting and correlating data and interactions across these digital ecosystems." Further, EnVision imparts an understanding of the impact of specific actions or events, by "capturing insights from interactions between the backend applications -- and the various customer touch-points has become critical for businesses," he added.
Noteworthy to EnVision's approach is companies can capture deeper levels of analytics, and devs do not have to change how they design or build their APIs to extract such new levels of insight. "You absolutely don't need to design the API differently. With EnVision just using your existing API you can extract much more data than ever, and do it easily," Agarwal said.
EnVision Analytics Delivers Three Key Benefits for API Projects
At its core, EnVision is an integrated, out-of-the-box API-focused analytics platform built to deliver three (3) key levels of API insights: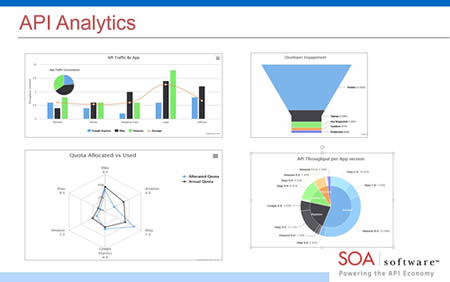 #1. Near real-time tracking of trends (products, customer, monetization). Many companies with API programs use them to support connections with customer and business partners, but they often lack granular metrics on these activities, Agarwal said. "Companies would like more information about what products are being sold using which channel, including their API. They're also looking for more details to help identify trends in various monetization models, such as what is the average transaction value for an API and does it differ based on time or location of the user," he noted.
Users can also use EnVision to learn more about how their partners use APIs, and answer many top-of-mind questions about them, such as: Which partners are doing the most traffic or conversion with an API? Are there trends in partner revenues or adoption of APIs? Users can also delve down deep on partner monetization patterns, such as size of deal, value, time of day, geo-location, even method of payment (e.g. credit card, debit card, Paypal or mobile wallets).
#2. API trends (by usage, app type, channel and more). API product managers want more info about API usage, mainly to help them figure out which APIs are 'hits' and which are 'duds' – and why. "We can provide companies more information about who is using their API, such as what kind of developer, corporate or independent, web or mobile," Agarwal said. Even further, if mobile, EnVision can provide data on which devices use it most often, and when.
Perhaps even more intriguing, based on how API devs sign up, test and choose a subscription model, companies can grab details to help extend an API 'hit' to other API projects, or even how to salvage an API flop. Is there just too little traffic, despite a lot of devs using it? Is performance an issue at a certain time of day? Or, are many devs signing up to test with an API, but not many go live with it? This might reveal the need to reach out to devs and even create better documentation or a training video.
#3. Operational analytics for performance monitoring, optimization. With this, EnVision puts all these deeper business metrics into perspective because IT managers can easily visualize and confirm that APIs are working fine, or is there an unexpected latency," Agarwal said. Often times, in the early rollout of APIs, companies can face two big issues when it comes to launching a successful API: (a) ease of use by devs / partners and (b) high speed / performance.
API owners can analyze API licenses and usage to fine tune dev and partner onboarding, "SLAs for APIs can be complicated, and we built EnVision to provide IT and [API] program managers quick access to those metrics that show that," he added. EnVision allows IT professionals to analyze how their infrastructure responds to requests from different devices, locations and request types. It allows enterprises to manage quality-of-service of their APIs, oversee quota usage and troubleshoot and react to problems before they can adversely impact their business.
An Architecture View: How EnVision Delivers Richer API Analytics
Under the covers, EnVision engineers re-architected its API Management product to use MongoDB. "An SQL database is too expensive or just isn't geared to handle the volume of data that can be generated by API calls, which can be significant. It's just clear this level of detail needs a database, that can handle big data-scale," Agarwal said.
Operationally, SOA Software tied this highly-responsive, high-scale MongoDB database with its high-throughput gateway. Other highlights of the EnVision platform architecture supports these valuable features to IT and business users: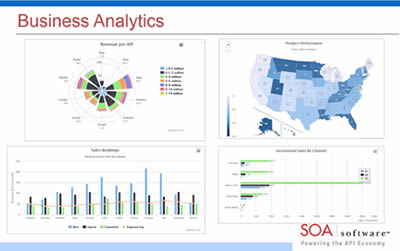 Dozens of out-of-the-box reports and dashboards.
Policy-based data collection to ensure regulatory and security compliance.
Import data from any external sources.
Enrich data using Map Reduce, R Analytics and custom plug-ins.
Export to any external analytics tools for further analysis.
As a result, the EnVision API analytics platform can combine all these capabilities to seamlessly deliver four (4) key advantages over traditional API tracking systems, Agarwal explained. They are:
Speedier data capture.
More detailed data capture (thanks also in part to low cost storage).
High-performance and near real-time rendering and display analytics.
Ability to perform complex data correlations.
Agarwal brings the list of EnVision capabilities into a real business example:
"Let's say a PO [purchase order] comes through an API call. The dollar amount is a field inside that call, and MongoDB is the best way to capture and retain that data for a long time, with low latency and storage efficiency," Agarwal told IDN. "Beyond this, our architecture means EnVision can also deliver deep correlations, with that API data and with other datasets."
In the case of an API-driven purchase, EnVision can tell if that came from a web or mobile user. It can even tell if that same customer came back and bought something else, and what device they used, he said.
EnVision also lets companies import data from other external channels for data analysis. It also sports an easy-to-use report UI, which lets users slice and dice data into custom reports using a simple drag-and-drop interface. Tech savvy users can employ EnVision's script engine to write extra logic to deliver even more data correlation between API metrics and other datasets.
"If you just look at API data, you don't know all this. But with a holistic view of your API data it becomes more powerful," Agarwal emphasized.
SOA Software also intends to extend EnVision's data visualization options, even working with Splunk and Tableau to bring API projects more useful ways to use and display business analytics, he added.