Tibco ActiveMatrix BPM Delivers Responsive Process Apps with Real-Time Data, Events
Next month, Tibco continues to build on its recently-launched new-gen BPM platform that is infused with real-time events and data. To deliver a more adaptive, informed and responsive approach, ActiveMatrix BPM uses events, integration and what the company calls "fast data" to push BPM beyond workflow automation to provide deeper situational awareness and responsiveness. IDN talks with Tibco's Rachel Brennan.
by Vance McCarthy
Tags: ActiveMatrix, apps, BPM, case management, CEP, events, fast data, IDC, integration, Jaspersoft, middleware, model, reports, SOA, Tibco,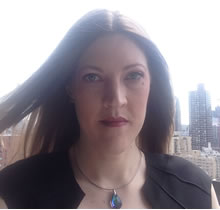 Rachel Brennan
director, product marketing management for BPM worldwide


"Today, BPM needs to do more than simply automate their Visio diagrams. Customers are asking for ways they can use BPM to differentiate."
Tibco continues to build on its recently-launched, new-gen BPM platform that is infused with real-time events and data.
BPM-CON

Faster, Smarter, Dynamic Apps for Business Process & Case Management
November 13

Online Conference
In December, Tibco will launch ActiveMatrix BPM 3.1, its first upgrade to the new platform, with features to deliver a more adaptive, informed and responsive approach. ActiveMatrix BPM 3.x brings together real-time events, integration and what the company calls "fast data" to push BPM beyond workflow automation to provide deeper situational awareness.
Further, ActiveMatrix BPM marries its powerful runtime capabilities with intelligent and easy-to-use design tools that remove a lot of the complexities of build BPM and case management apps – even enabling code-free assembly of solutions. The result is companies can easily design and execute a new generation of dynamic business process solutions, Rachel Brennan, Tibco's director of product marketing management for BPM worldwide told IDN.
"Today, BPM needs to do more than simply automate their Visio diagrams. I'm seeing more and more customers asking for ways they can use BPM to differentiate themselves. Companies should be able to adjust their business processes as events happen in real time," she said. Tibco designed ActiveMatrix BPM 3.0 to deliver BPM value beyond simply automating process flows. "We can bring in events, rules or data to static processes, so your company can have a more data-centric app that responds to real situations," Brennan added.
Tibco's senior vice president and general manager, Inderjeet Singh, describes this next wave of BPM this way:
"We believe that event-driven processes and fast data are necessary to drive innovation in business operations and bring along the transformational power of delivering insight into what's happening right now."
In her BPM blog, Brennan elaborated on how a dynamic, real-time approach to BPM – supported by rich sets of data, events and triggers – will fuel true business innovation and transformation. In part she wrote:
More and more, the end goal is a transformation, and we are not talking about little transformations. We are talking about using processes to fundamentally change an organization's business value, tap into additional markets, and even tackle new economies.

This isn't achieved by just automating what you have always been doing; it is achieved by embracing disruption across trends and technologies that are the catalysts – such as Fast Data, the Internet of Things, mobility, and event-driven architectures. We are on the edge of a new era of business processes – we are hearing this from clients, prospects, and all the leading analysts.
Not coincidently, Tibco's enriched and real-time approach to BPM comes as more companies are also looking to tap into the value of the "3Vs of data" – volume, velocity and variety. "Every second there are millions of events produced by people, processes and systems across an enterprise. ActiveMatrix BPM 3.0 provides processes flexible enough to react to the right events in real time, ushering in event-driven BPM, so businesses can react to events as they happen in the organization and have contextual conversations across all channels," is how Tibco's ActiveMatrix BPM web resource center put it.
How Tibco Adds BPM + Events + 'Fast Data' Together To Reshape 'Process Apps'
As a result of all this embedded integration and event technology, dynamic BPM and case management apps can adjust in mid-flight based on data or event. Tibco can also provide readily-defined connectivity to packaged applications, databases, mainframes, standard technologies, cloud-based apps and data stores and even easy ways to access custom legacy apps, according to Brennan.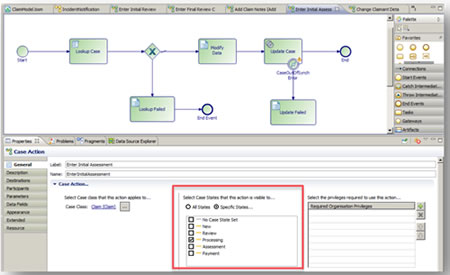 In addition, Tibco's integration expertise that underpins ActiveMatrix BPM means there is not a ton of complexity involved in getting these use cases going, Brennan added. "ActiveMatrix BPM treats everything as a service call, so it can take in events or even send out events to other systems," she said, adding Tibco's infrastructure provides event-driven orientation from backend to front end.
The combination of BPM and real-time data and events can add up to some game-changing new process apps because such apps can let users deal with situations as they really exist – and not as a pre-defined workflow might hope they should exist. Brennan shared some examples:
Looking for Fraud: Thanks to its ability to access historic data and real-time activity and business events, ActiveMatrix BPM 3.0 can help users visualize what is happen in the moment, and take steps on the fly. "We can give users a live payments map on [activities] coming through (based on customer account, merchant account, etc.) Brennan said. "Payments would show up on a screen, where we can even let users click to drill down.
Company Reputation (aka Customer Sentiment): It can monitor tweets and other social media and derive a "sentiment analysis" and take appropriate action – whether it be a corporate-wide issue or one triggered by an individual region or customer. These actions can be special offers to the individual customer or trigger a process to launch a more wide-sweeping company responses.
Customer Satisfaction: Under the covers, ActiveMatrix BPM 3.0 uses a flexible organization model, which is separate from the process. This means companies can change their organization or their process – without impacting the other, Brennan said. This benefit shows up in customer care. "Often, customers that call in [to a service representative] might get someone at random, or with less experience. Using business rules [that score high-value customers higher] we can route that call to someone more senior – not just 'next available,'" she said. The same benefit goes for routing complex work tasks through a company.
Inside Tibco ActiveMatrix Architecture for "Fast Data" Powered Apps, Processes
Tibco is building on its long experience in integration infrastructure, SOA and CEP (complex event processing) with new features, Brennan noted. Among them:
Rich global and case data

Additional dynamic work delivery methods

Singular inbox (for users who participate in more than one process)

Innovative model-based approach to designing assets, apps

UIs for customizable, real-time and dynamic views

Accelerate innovative apps with model-driven (code-free) support for common and reuseable business patterns
Add it all up and Brennan expects ActiveMatrix BPM 3.x will spur what she called "innovation through experimentation."
"A workflow is not an app. We know customers aren't only looking for faster ways to build workflows. They also want ways to innovate processes, and then investigate what's working. The people that can help the business change and come up with new ways of doing things are not the same audience trying to optimize [BPM]" she told IDN.
Tibco will unveil several new updates in ActiveMatrix BPM 3.1 at the Gartner BPM Summit, Brennan told IDN. Among the new features will be its easy-to-use UI tooling, enhance ways to support 'ad hoc' processes, as well as ways to help ActiveMatrix BPM process and case management apps obtain and understand more data and information. A notable enhancement will be more support for processes to embed reports from Jaspersoft (which Tibco acquired earlier this year).
An analyst at IDC MarketScape noted several benefits to Tibco ActiveMatrix BPM's "end-to-end focus on event-driven BPM," including its ability to dynamically render a user interface, its support of case management style applications, and its integration with its rules-oriented, event processing software to provide highly scalable real-time, decision-centric automation.