Dell Beefs Up Cloud-Based BYOD with End-to-End Management; New Secure Apps for Phone, Box
Dell's mobility unit is using the cloud to deliver low-cost, low-hassle BYOD solution for mid-market and departmental IT. Dell Enterprise Mobility Management gives IT a single location for end-to-end mobile app, data and device management. The Dell Mobile Workspace container adds apps for business-grade Box and business phone calls. IDN speaks with Dell Mobility's Roger Bjork.
by Vance McCarthy
Tags: Android, Box, Dell, EMM, file sharing, identity, iOS, MAM, MDM, mobile, security, smartphone, SonicWALL. tablet, workspace,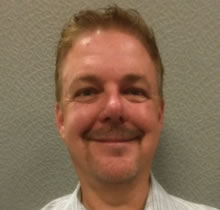 Roger Bjork
director of product marketing
Dell Mobility

"We want to deliver a rich set of EMM capabilities as well as simplicity . . . so IT professionals don't have to be PhDs"
Dell's solution for managed BYOD adds collaboration and security features to improve low-cost, low-hassle enterprise mobility for mid-market and departmental IT.
Mobile IT Summit

April 23, 2015

An Online Conference
Two Dell technologies, Dell Mobile Workspace and Dell Enterprise Mobility Management, work hand-in-glove to provide an end-to-end BYOD solution that's easy to use for employees, and ensures secure and manageable operations for IT, Roger Bjork.
director of product marketing for Dell Mobility, told IDN.

"We want to deliver a rich set of EMM capabilities as well as simplicity," Bjork said. "In the mid-market or departments, IT can be overwhelmed by the complexity of mobile projects. We built Dell EMM so IT professionals don't have to be Ph,Ds to get their job done. End to end, Dell can manage all [mobile] devices, whether your company owns them or not," Tork said.

Under the covers, Dell is packing a lot of technologies into the cloud and its mobile device container for Android and iOS. Del EMM gives IT a single location for management and policy compliance for BYOD. It can manages and secures device, systems, apps and content.

Dell EMM leverages many already-proven technologies from Dell, now optimized for mobile endpoints, apps and data. Among them:
secure remote access (from Dell SonicWALL)
encryption (from Dell Data Protection|Encryption)
mobile device management (from Dell Wyse)
systems management (from Dell KACE)
access control (from Dell One Identity)

These Dell EMM backend services work with Dell Mobile Workspace to deliver end-to-end management and security for mobile apps, data and content, he added. The combo also enables users to share data securely and synchronize enterprise information seamlessly. "Dell Mobile Workspace is a container to give IT a secure island, where the [mobile] apps can run and be managed," Bjork told IDN. It also gives IT visibility, control and real-time reporting and alerts, he added.
Dell EMM's Focus on Mobile-Ready Business Apps
The Dell Mobile Workspace also comes with a collection of mobile-ready apps for calendaring, contacts, browser, file manager, enterprise-grade storage and email (including integration with Microsoft Office 365). In this addition, Dell is adding two new apps to further improve end user productivity
Dell Business Phone, an app for enterprise-controlled phone service, and
Box for Dell, an app to support secure enterprise file sharing and content collaboration using Box

Dell Business Phone – This app provides a way for BYOD workers to not have to use their own phone numbers or incur charges. It lets IT provision BYOD users' business phone lines and numbers that can be controlled by the business. The app leverages Vonage Business Solutions' cloud-based communications platform.
A full-featured phone app, it offers users texting, voice mail, conference calling, three-way calling and even call recording. IT can safeguard call logs, voice mails, texts, contacts and other data within the encrypted Dell Mobile Workspace. Corporate managers can set security and calling policies, and even route calls over WiFi as available. Dell Business Phone leverages a cloud-based voice offering from Vonage Business Solutions.
Bjork also pointed out one more important benefit – the business can retain the phone number even after the employee leaves the company. "When Joe leaves, I don't want my customers to call Joe, especially if he moves to my competitor. Now, I can I give that number to [my employee] Mary."
Box for Dell – This lets BYOD employees access enterprise files and folders securely across a range of devices and workspaces to share documents, collaborate among teams and edit content directly with existing apps. Bjork and his team list the following benefits to end users and IT of the managed Box for Dell app.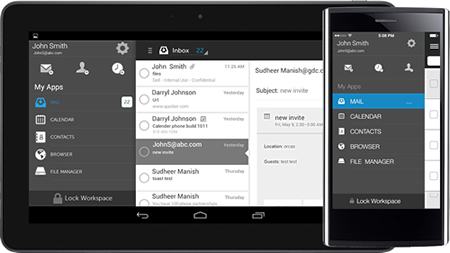 IT and admins can:
Protect sensitive materials with passwords or by setting dates to expire/auto-delete
Maintain central security (coupling remote device management with auto-logout and locking)
Gain insight into how content is managed and accessed in the organization.
Generate reports on file and user activity (by logins, downloads, edits, uploads, etc.)
Easily add, modify and manage users; set login credentials; allocate storage quotas
Mobile users can:
Access and manage files from anywhere using any browser
Keep desktop, browser and mobile data in sync
Share large files easily with individuals or an entire department
Streamline workflow by assigning tasks to approve, review or update files
Create and organize multiple layers of folders with varying levels of security policies


Dell EMM's Focus on Mobile-Ready Business Apps
Dell for Box illustrates another example of how Dell Mobile Workspace and Dell EMM work in tandem, Bjork said.
Dell EMM builds identity and access management directly into Dell Mobile Workspace. "We've built the solution so that the user logs into the app right from their device. They don't then again log into Box. We take care that their identity gets brokered across [the infrastructure] all the way to the backend," he added. For identity, today Dell integrates solely with Active Directory, but Dell is working with others, he said.

Dell for Box can also enforce policies based on the user, the app, the content and other factors, Bjork said. An example of Dell EMM's ability to set policies for secure collaboration might include a rule that states only download SharePoint documents from within Box for Dell (within Dell Mobile Workspace).
Inside Dell's Approach to End-to-End Mobility Management, Security
Dell EMM services impose restrictions and infuse protections for how apps and content inside Dell Mobile Workspace can be used, offering: IT and users: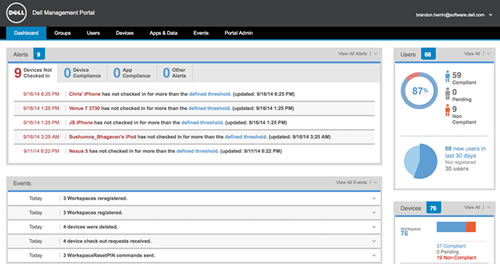 Mobile endpoint management (simplifies the management and securing of mobile apps and content; offers encryption and policy compliance)
Data loss protection (keeps corporate data only within the secure workspace; it also blocks personal apps from cutting, copying or pasting content outside the workspace)
Encryption protection (ensures unapproved apps running outside the workspace cannot read data inside the workspace; it also prevents the image on the disc from being moved to another machine)
Secure remote access (works with existing VPN to securely connect the workspace to the enterprise network)
Prevents unauthorized access (provides compatibility with corporate firewalls to prevent unauthorized apps outside the workspace from accessing corporate networks)

A free trial of Dell Mobile Workspace for iOS and Android devices, is available here.