BlazeMeter, New Relic Team Up To Deliver Richer App Performance Testing Analytics
Enterprise IT stakeholders across the application lifecycle will get new insights into their testing data with real-time, interactive query capability, thanks to a growing BlazeMeter/New Relic partnership. IDN speaks with BlazeMeter CEO and founder Alon Girmonsky.
by Vance McCarthy
Tags: analytics, APM, BlazeMeter, cloud, data visualization, mobile, New Relic, testing,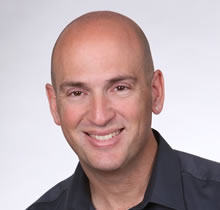 Alon Girmonsky
CEO and founder


"Without proper testing, you leave your IT environment extremely vulnerable."
Enterprise IT stakeholders across the application lifecycle will get new insights into their testing data with real-time, interactive query capability, thanks to a deeper partnership between BlazeMeter and New Relic.
One eye-catching feature for customers is active, real-time querying "conversations" with performance testing data via New Relic Insights, uncovering new levels of insights to help with troubleshooting and problem resolution, according to execs from the two firms.
Big Data in Motion Summit

Manage Expanding Data Volumes for Analytics & Operations
Jan 29, 2015

Online Conference
Under the expanded partnership, BlazeMeter's agile performance testing-as-a-service platform (what the firm calls a 'load testing cloud') features expand deep integration with New Relic's Insights real-time analytics platform. As a result, customers will be able to gather and visualize load test data, as well as obtain dynamic, customizable dashboard views of their performance metrics, according to BlazeMeter CEO and founder Alon Girmonsky.
"Data analysis is most valuable when you can understand and act upon it instantly. Testing makes it easy to trigger a symptom, but you need monitoring to identify the root problem in the first place," Girmonsky told IDN. "Together, BlazeMeter and New Relic provide their customers a full 360-degree view of their systems. Customers can dynamically define the KPIs they want to analyze, query the application and instantly understand the specific quirks of their system," he added.
The growing BlazeMeter/New Relic partnership is also a sign of how IT is increasing its use of machine data and big data to improve their software lifecycle -- design, development, testing and operations.
Girmonsky put it this way: "Considering that usually a test is being run hundreds of times per week, storing the application monitoring data in the context of the performance testing data is critical to get a clear picture." To be clear, this picture should include: (a) what is being tested, (b) where the problems are and (c) using insights to identify solutions for any problems, he added.
By working together, BlazeMeter and New Relic can let IT operations view test data immediately from within the highly-visual New Relic dashboard they are already used to, he said. To deliver deeper insights, users can have "an active conversation with the software," said Bill Lapcevic, New Relic's vice president of business development, in a statement.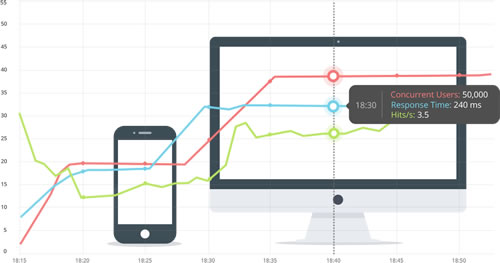 We asked Girmonsky to define a "conversation" for understanding test data. "Traditional load testing solutions provide out-of-the-box reporting of certain KPIs. However, not all applications are created equal when it comes to performance testing. Quite often, you need to do a customized drill down to find the real problems, to fix them and to get your app up and running," he told us.
With BlazeMeter/New Relic, users can actively query the KPIs that matter to them and receive instant answers. "Successful performance testing goes hand-in-hand with sophisticated analytics and we are delighted to broaden our partnership with BlazeMeter with this new integration," New Relic's Lapcevic added.
The BlazeMeter/New Relic approach to APM-focused analytics will deliver particular value to mobile and hybrid apps projects, where SLAs and user experience are crucial to the success of apps, Girmonsky added.
"In mobile, there are many moving parts. Therefore any platform that is being used for testing, must support all these by providing easy ways to record mobile scenarios and to be able to realistically emulate mobile traffic at scale," he said. BlazeMeter's approach lets users "easily build a realistic simulation of any scenario," including networks, devices, scale and even location. "You can run these tests on-demand and test different alternatives of provisioning. You can conduct continuous testing until you reach the best provisioning alternative," Girmonsky told us.
As to hybrid, Girmonsky added, "We believe in the hybrid approach, where your local environment extends to the cloud. BlazeMeter [testing-as-a-service] obviously supports testing a hybrid environment. Without proper testing, you leave your IT environment extremely vulnerable as you are not able to trigger symptoms of a problem proactively and are left only with reactive methods to deal with a problem."
BlazeMeter offers customers a free account here.
The latest capabilities from BlazeMeter and New Relic build on their long-standing partnership. Girmonsky described it for us. "We first integrated with New Relic using the Connect API, where we enabled BlazeMeter users to visualize and store data coming from New Relic in BlazeMeter – within the context of a test. We then continued with the Platform API Integration, allowing New Relic users to visualize BlazeMeter's data as part of NewRelic's set of dashboards," he said.
BlazeMeter also just recently integrated with New Relic to allow users to ask questions using NRQL, a natural language, on the complete data of the test, he added.