Kony Looks To Tackle Two of Enterprise Mobile's Toughest Challenges: Faster App Delivery, Happier End Users
A pair of enterprise mobility offerings from Kony Inc. aim to tackle two of the sector's toughest challenges – delivering mobile apps faster and making sure users will be happy with them. IDN looks at the Kony MobileFabric 'converged mobile infrastructure' and the Kony Visualizer 2.0 mobile app design solution with Kony execs.
by Vance McCarthy
Tags: ALM, Android, API, apps, cloud, Kony, identity, iOS, MBaaS, MDAP, mobile, MobileFabric PaaS, Phonegap, REST, Visualzier,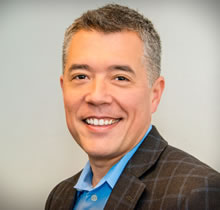 Burley Kawasaki
senior vp, products


"Kony MobileFabric brings together many crucial mobile-focused backend services into a unified and open standards-based platform."
A pair of enterprise mobility offerings from Kony Inc. aim to tackle two of the sector's toughest challenges – delivering mobile apps faster and making sure users will be happy with them.
Kony MobileFabric is a next-gen "converged mobile infrastructure" that brings together many crucial mobile-focused backend services into a unified and open standards-based platform. Kony Visualizer 2.0 is a collaboration tool to help designers, devs and mobile users work more effectively.

"The name of the game in the world of mobile apps is continuous speed to market, agile responsiveness and a compelling user experience," Burley Kawasaki, Kony's senior vice president of products, told IDN. Both Kony products sport features designed to deliver that speed, agility and user satisfaction.
Inside Kony Mobilefabric's 'Converged Mobile Infrastructure'
Kony MobileFabric combines four (4) services into a converged single platform.
Mobile application development platform (MADP)
Mobile backend as a service (MBaaS)
Application Programming Interface (API) management, and
Platform as-a-Service (PaaS) infrastructures
By weaving together multiple backend services into a 'fabric' Kawasaki says Kony MobileFabric is architected to deliver several valuable benefits to stakeholders in any enterprise mobile project.
Among these benefits, Kawasaki points to areas across the entire mobile app lifecycle, including:
More developer flexibility to work with any popular front-end SDK (iOS, Android, JavaScript and PhoneGap)
Lower complexity and cost of using multiple backend solutions to support security, integration, orchestration and other complex mobile tasks,
Faster time to market for new / updated apps,
Seamless elastic scalability to support high-performance and wider adoption
Quick and more accurate provisioning,
On-going app visibility and monitoring into app performance and even
Abilities to precisely measure user acceptance with on-going app analytics.
Mobile IT Summit

Mobile as a Platform for Innovation with BYOD, B2C & Enterprise Apps
October 16

An Online Conference
"Kony MobileFabric's overall goal is to deliver a fabric of services that can work together, and take hard things and make them simple," Kawasaki, told IDN. Among the 'hard things' Kony MobileFabric can simplify for mobile app developers are identity, integration, orchestration, messaging and offline data sync, he added.
For all Kony's efforts to provide a pre-integrated 'fabric' what has been a set of discreet features, the Kony MobileFabric is architected to offers "open native and multiplatform support," Kawasaki said. It open RESTful and other APIs to allow devs a choice -- to use the combination of Kony services or to easily integrate or call out to other vendors' popular mobile tools and frameworks. "You don't need to use Kony [technologies] to gain all these MobileFabric benefits," he added.
In a blog post, Kawasaki further described Kony MobileFabric's approach.
"Kony MobileFabric is the evolution and unification of Kony's cloud-based mobile application development platform and Kony MBaaS. It supports both the backend runtime needs of the Kony Studio toolset and provides an open set of RESTful services that can be developed against from native, HTML5, or hybrid-based apps. You can now mix-and-match the tools you like with the premium quality backend integrations that you want without having to be limited by your infrastructure."
How Kony MobileFabric Weaves Together Crucial Mobile Backend Services
Here's a closer look at how Kony MobileFabric makes it easier for devs to work with several crucial backend mobile services:
Identity. To secures enterprise apps, it leverages existing enterprise identity infrastructures, including Active Directory, SAP, Salesforce.com and third-party identity offerings.
"We provide an integrated set of identity services that federate with Active Directory out of the box," Kawasaki said. Kony MobileFabric also supports SAML and OAuth. "Most customers want to use what they already have to offer identity management to their mobile apps, so we've put a lot of work into our federation for identity," he added.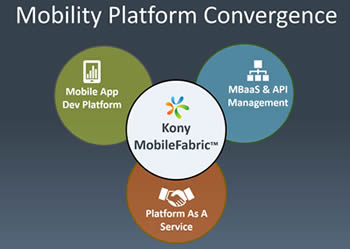 Integration. This provides an easy code-free way for devs to connect mobile front-ends with backend data and services. Simplicity comes thanks to Kony's combination of a visual service designer that taps into a library of out-of-the-box connectors. Kony's visual tool can generate code snippets that devs can use to tie their mobile front-ends to these backend services. Devs can even integrate directly with crucial business apps, such as SAP or Salesforce.com.
Further, for custom integration, Kony supports REST APIs, SOAP, XML, and JSON. Kony supports popular mobile SDKs, including PhoneGap, iOS, Android and Objective C.
Orchestration. Kony streamlines and orchestrates access to multiple server-side composite services, workflows and business logic. This simplifies services execution, especially for multiple or complex steps, Kawasaki said. This feature can also reduce latencies for common mobile tasks (secure log-in, accessing data, performing updates or complying with policy), he added.
Data Synchronization. Intermittent mobile connections can cause major data sync issues for mobile users. Kony overcomes this by enabling apps to work offline. Kony also maintains secure synchronization with systems of record. It can even resolve sync conflicts, by using configurable rules and policies, Kawasaki added.
For on-going mobile apps operations and performance, Kony MobileFabric also delivers valuable PaaS benefits, including seamless elastic provisioning and monitoring.
At least one Kony channel partner is bullish on Kony MobileFabric's "converged" mobile infrastructure. "Kony MobileFabric meets a critical need of . . . customers to securely connect any new or legacy app to any back-office system through a secure and open cloud framework, while also speeding the process of delivering great mobile apps to market," said Tony Velleca, CIO at UST Global, a global Kony integration partner, in a statement.
Kony Visualizer 2.0 Uses 'WYSIWYM' To Speed App Delivery and Rich UIs
Kony also updated its Kony Visualizer mobile app design solution to promote a faster mobile app lifecycle by promoting more frequent and deeper stakeholder collaboration.
Kony Visualizer 2.0 delivers what Kony execs call "what-you-see-is-what-you-mobilize" (WYSIWYM), by keeping business users, designers and devs on the same page, even in real-time. It can even reduce the need for re-coding, which can result in delays and errors.
"Often, there is a huge gap between what business users expect and what the IT team delivers," Kony's Ed Gross, vice president for product management told IDN. One of the biggest reasons for this is because the tools used in prototyping or design don't allow that code to be leveraged by dev teams, Gross noted.
"So, you end up that a lot of code [written] in prototyping gets thrown away, even though the end users approved it. So now, developer has to start from scratch, using different tools," Gross told IDN. As a consequence, apps get delayed and even when they are delivered by the dev team, it can be a disappointment to the business users, he added.
"The wonderful user experience doesn't always get translated when developers have to code from scratch. They don't always have that same attention to pixels and other visual elements," Gross confided. "As a result, we've seen apps where as much as 70 percent of the code isn't what the users approved, and has to be rewritten."
Kony Visualizer 2.0 tackles this dilemma with a collaborative mobile app solution that allows designers to share code and work product directly with app developers. This eliminates the need for 'throw-away' prototypes, and speeds up the timeline from design to real app, Gross said. It also ensures the design end users loved at the start can be retained in the final app, he added.
To deliver these benefits, Kony Visualizer 2.0 offers:
Richer UX: Companies can design mobile apps within Kony Visualizer 2.0, and provide mobile app users a rich experiences -- even on native devices. It supports animations, layering, transformations; switch between iOS, Android, and Windows devices in the app canvas to design and instantly preview the native look and feel.
Codeless app design: Innovative features let designers or business users drag and drop their UI work product using a graphical WYSIWYM canvas. This creates a pixel-perfect layout for the mobile app. It also define complex user interactions – including animation, navigation, even advanced device interactions – all without writing code.
Greater collaboration: Designers, devs and mobile users can collaborate on projects in real-time via Kony Visualizer's cloud-based collaboration services. "With our unified toolset, we are rending the real drawings -- not simply pixels," Gross said.
App productivity: App designers can store assets in Kony Visualizer 2.0's asset library and reuse them. Designers can even import assets into Kony Visualizer from outside tools, such as Adobe Photoshop, eliminating the need to re-build assets.
One mobile analyst says Kony Visualizer 2.0 steps to optimize the mobile app lifecycle deserve attention. "Developers, designers and business users need a means to rapidly prototype applications, open out to preview by all stakeholders . . . Essentially enterprises need a compressed lifecycle where at all stages the stakeholders are as close during pre-production to what the end-users will themselves ultimately experience," said Chris Marsh, principal analyst, Enterprise Mobile App Strategies, 451 Research.
Visit here to learn about free trials of their Kony MobileFabric and Kony Visualizer2.0.
Kony offers flexible mobile app deployment models, including cloud and on-premises management. All options enable an enterprise-grade environment with geo-redundant high availability.