SnapLogic Help iPaaS 'Cross the Chasm' with Visibility, Security and Pre-Built Integrations for Apps, Data, APIs and Hadoop
A look at the latest updates to the SnapLogic iPaaS reveals the sector is ready to "cross the chasm" – and meet growing strategic enterprise integration needs. At the request of high-level IT, SnapLogic Summer 2014 adds management dashboards, access to metrics, SSO security support and other mission-critical features. IDN speaks with SnapLogic's Craig Stewart.
by Vance McCarthy
Tags: APIs, big data, cloud, dashboards, data, Hadoop, iPaaS, integration, REST, SaaS, SnapLogic, Snaps, transform,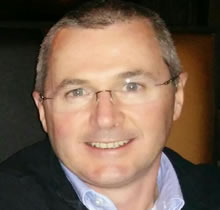 Craig Stewart
senior director,
product management


"Interest in iPaaS is reaching a tipping point, as IT looks for a common integration platform to deal with cloudification of apps and data."
A look at the latest updates to the SnapLogic iPaaS reveals the sector is ready to "cross the chasm" – becoming a strategic integration technology for meeting the new needs for performance, management and control over the extended enterprise.
SnapLogic Summer 2014 adds management dashboards, access to metrics, SSO security support and other mission-critical features. Notably, these add-ons to SnapLogic's iPaaS (integration platform as a service) came at the specific request of top-level IT stakeholders, according to Craig Stewart, SnapLogic's senior director for product management.
CLOUD-CON
Integration & Web APIs

iPaaS & APIs Will Open a New Era of 'Easy, Any-to-Any Integration'
December 11

By bringing together an architecture that can support elasticity, reliability and visibility for all types of integrations for cloud, on-premises and Hadoop, SnapLogic Summer 2014 looks to drive a wave of new ways companies can leverage iPaaS, he said.
"We're seeing interest in iPaaS is reaching a tipping point, as IT looks for a common integration platform to deal with cloudification of apps and data. iPaaS is not just Salesforce or Workday [SaaS] anymore," Stewart told IDN.
SnapLogic CEO Gaurav Dhillon, formerly of Informatica, put it this way: "A unified approach to connecting growing data volumes, types and sources as well as new and legacy business applications and proliferating APIs is essential to becoming a truly elastic enterprise."
SnapLogic releases its SnapLogic Summer 2014 features to bring more mission-criticality to iPaaS as this emergence of a new cloud-centric reality is sinking in with IT.
Inside SnapLogic Summer 2014's
Latest Features for IT Managers, Admins
Among the upgrades in SnapLogic Summer 2014 are these items from IT's iPaaS wish list
Dashboards, Analytics for Deeper Visibility
SnapLogic delivers a new "health" monitoring dashboard to give users strong visibility into integration tasks and processes. An "insights dashboard" provides a wide range of views and stats to illustrate capacity and performance-related insights on files, projects, accounts and discreet multi-tenant cloud integration services. Details highlight SnapLogic users, nodes, data flows, tasks, data volumes and API calls.
"This is all an IT-driven [request], where they want more understanding and what is running and how it's doing," SnapLogic's vice president Darren Cunningham told IDN. To obtain the metrics to feed these dashboards, SnapLogic taps real-time into the analytics about the operations and 'operational telemetry' about an integration task. The data comes from its core platform (Snaplex); and the individual integration components (Snaps), which run on it. "We heard loud and clear from IT admins, they want more and more monitoring, heartbeats, signals – you name it," Cunningham said.
SAML 2.0-based SSO (single sign-on)
This feature extends SnapLogic to seamlessly let IT admins integrate with major SAML 2.0-compliant OpenAM Identity Provider (IdP) implementations. "Our major customers tell us as they adopt more cloud [solutions], SAML-based security is becoming an absolute requirement," Stewart said. "With this solution, we are not providing the [ID] solution ourselves. We are implementing a SAML-based SSO capability where we integrate with whatever IT provider the enterprise is using." Vendor solutions supported include Ping Identity, OpenAM, Okta and OneLogin,
API Management and Metering
More and more, the cloud-based targets use novel API-based integrations. SnapLogic also provides ways for IT to capture important information about the throughput, integrity and data flows of these integrations between on-premises and cloud. SnapLogic is also making it easier for IT to drill down into all types of analytics that reflect end-to-end performance and capacity issues of integration-related tasks, across on-premises and cloud, he added.
SnapLogic Summer 2014 Also Speeds Mappings, Supports Hadoop
Beyond adding IT-centric upgrades, SnapLogic Summer 2014 also has goodies for the integration devs and designers.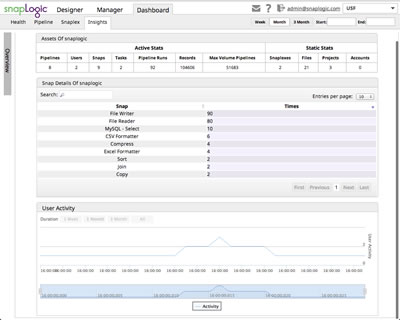 Notably, SnapLogic is making data mapping smarter and faster with an updated to its SmartLink technology. In this release, it even offers integration designers suggestions for how to map, based on a cloud-based repository of successful mappings achieved by other SnapLogic users.
"If you are a cloud service, you should take advantage of how the cloud lets you do things you couldn't do before," Cunningham explained. SmartLinks identifies successful mappings and pulls them into a repository users can access to speed those tedious tasks. For novel fields or integrations, SmartLink offers templates and patterns. "You may have a repository on-premises, but that will be limited. With the cloud, we can offer users the power of our whole community."
Another push-the-envelope innovation is SnapLogic's ability to run as a native application in Hadoop, specifically as a YARN app. This can happen thanks to SnapReduce 2.0, which helps convert SnapLogic's integration pipelines into MapReduce jobs that can leverage the massive parallel-processing of Hadoop clusters and HDFS for strong throughput and performance.
SnapReduce 2.0 provides some key benefits to big data stakeholders: marries structured and unstructured data; simplifies complex data-shaping tasks such as transformations, joins and unions; supports direct integrations and event ETL among Amazon Redshift, Oracle, SAP, MongoDB, Netezza and more. For visualizations, SnapLogic provides integrations to analytical tools like Tableau, Birst, Tidemark and other end-user tools. The capability has already been certified on Cloudera and Hortonworks.
A Quick Look Inside SnapLogic iPaaS Architecture
Underpinning SnapLogic's ability to innovate is its two-part runtime/design time architecture:
First, the Snaplex is the runtime data processing engine of the SnapLogic iPaaS. Each customer gets a dedicated Snaplex for processing its data. A SnapLogic blog posts explains the architecture.
No matter where [it] runs, each Snaplex can elastically expand and contract based on data traffic flowing through it. The unit of scalability inside Snaplex is a JVM [java virtual machine]. SnapLogic . . . has built-in smarts to automatically scale the Snaplex out and in to handle variable traffic loads. For instance, each Snaplex is initialized with a preconfigured number of JVMs. Once the utilization of that one JVM reaches a certain threshold, a new JVM is automatically spun up to handle any additional workload. Once this excess data traffic has been processed and the second JVM is sitting idle, it gets torn down to scale back in to its original size.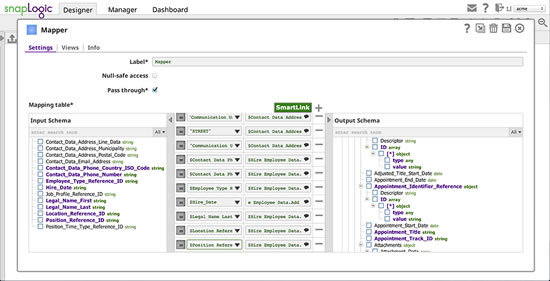 Second, the "Snaps" are modular collections of pre-defined, pre-built integration components. They are designed for a specific application connections such as Oracle or SAP to Salesforce or they can support specific data sources or tasks. Snaps include mappings, transformations, validations and even orchestration to let IT minimize coding and assemble (or "snap" together) integration tasks. Some straight point-to-point snaps can serve as stand-alone connectors. Or users can assemble multiple snaps together into a longer or more complex multi-Snap pipelines for more multi-point or multi-hop end-to-end integrations.
For SnapLogic Summer 2014, the company updated Snaps for Workday, SAP, NetSuite, SOAP, REST, XML Generator, CSV Generator, HDFS 2.0 and Oracle databases. It also launched new snaps for Twitter Streaming, Concur, Expensify, ADP and Xactly. To promote custom snap development, it also opened new "Snap-building community" for Java devs.