K2 Looks To Modernize BPM with Code-Free Smart 'Business Process Apps'
K2 is out to redefine how to capture business value from BPM and workflow. K2 blackpearl lets business users quickly design, build and run code-free "business process apps." These apps, assembled using K2's SmartObjects, SmartForms, contextual workflow, rules and reports, can securely access data from multiple applications and locations. IDN speaks with K2 execs.
by Vance McCarthy
Tags: apps, blackpearl, BPM, K2, SmartForms, SmartObjects, workflow,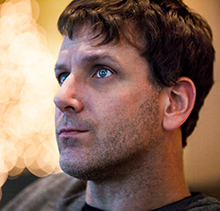 "K2's 'business process app,' use modeling to get down to business and to solve problems more rapidly."
K2 is out to redefine how to capture business value from BPM and workflow. K2 blackpearl lets business users quickly design, build and run what K2 calls "business process apps" that solve day-to-day business problems.
"BPM solutions aren't just about process modeling anymore," K2's CEO Adriaan van Wyk told IDN. "Today's mandate is about providing a whole 'business process app,' and that means don't stop at the model – but use modeling to get down to business and to solve problems more rapidly."
To deliver on this vision, K2 has taken model-based architectures to a new height. Thanks to an extensive use of loosely coupled models, K2 blackpearl is designed to design and run "highly composable and configurable apps," Dave Marcus, K2's Senior Vice President told IDN.
"Rather than BPM models, K2 blackpearl uses metadata models, which abstract complexity and can turn the task of 'programming an app' into 'assembling an app,'" Marcus said.
The power of using models does much more than make for simpler design, van Wyk added. Models actually dive the entire lifecycle of these configurable apps, including deployment and runtime. "Rather than hard coding [elements] with models, you simply describe them. And, once you describe it, it is easier to change the actual object," he said.
He went on to describe the advantages of using models not simply in the design – but for running the app: "If a house is built, and I need to change it, I may need to tear down rooms or even the whole house. Because I am just describing something with a model, when I need a change I just rewrite the description. I haven't had to tear down and rebuild anything. That's the difference between writing code and using models." van Wyk said.
Functionality of the K2's Model-Based Platform
Assembling Smart Workflows and 'Business Process Apps'
The K2 platform has a core layer of functionality that understands the meaning and requirements of these models. Atop the platform runs a model-based forms layer and a model-based workflow layer. To get the apps to do what they are intended to do, K2's platform also has an orchestration layer.
"We have spent an inordinate amount of time giving our platform these core underlying capabilities that non-developers can use to compose, and deploy real business apps," Marcus said.
Driving the magic of the "business process app," there are literally three building blocks that run atop the K2 platform and leverage its capabilities. These items provide the apps their ease-of-design, fast deployment and on-going (and always up-to-date) intelligence and functionality
K2 calls them: SmartObjects, SmartForms and Data Connectors. Here's a look at what these features offer, to both the non-techie "citizen developer" as well as the enterprise architect.

I. K2 SmartObjects
A SmartObject is a business entity definition (using XML), an integrated and composite model that represents all the information needed to represent a customer to a business user. For example, a SmartObject could be assembled for "Customer" that would have within it all the attributes and up-to-date information a business user would want to represent his customer.
The "Customer" SmartObject is configured in the K2 visual designer, allowing non-techie users to point, click, drag and drop a set of information, or a form to represent all the information they would like to see in one place when they click "Customer" in their apps. Notably, all this data is derived (never moved or copied) from multiple other apps or data stores, including CRM apps, SAP, cloud-based Salesforce.com and others.
Once assembled, this "Customer" SmartObject will provide business users an "uber" view of customer that is always up-to-date. Further, the "Customer" SmartObject can be embedded into a K2 app, embedded into non-K2 apps, and shared inside multiple other apps and workflows – all without coding.
"And, when I need to be sure my workflow or app has the latest update for 'Customer,' I just use this SmartObject because it always updating, and handling all those details,," Marcus said These SmartObjects can also be embedded into SmartForms, which means the forms are always compliant with the most up-to-date- information, he added.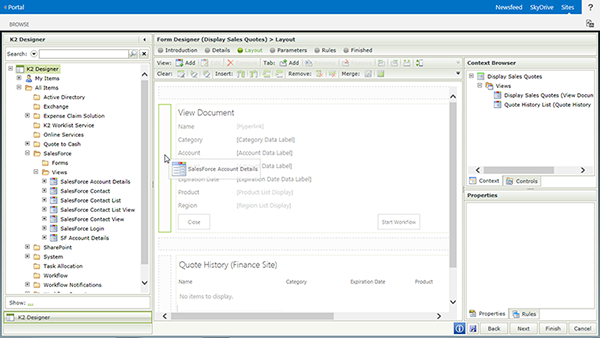 II. K2 SmartForms
In the same vein as SmartObjects, a K2 SmartForm lets companies collect and move data through a process or workflow more efficiently. Like SmartObjects, these forms are designed and deployed using models, and can be assembled with simple configuration wizards or drag-and-drop actions.
K2's approach to handling forms proved valuable to Marketform, a managing agency of insurance giant Lloyds of London. Marketform used K2 to develop smart workflows and smart process apps, workflows and forms to speed up claims processing and even innovate new insurance products.
When managing insurance, workflows can have 20,000 possible outcomes or more, so the challenge was "how [to] build something that can capture the information we need at a certain time," van Wyk explained. K2 found the new workflow solution should offer forms that would be able to automatically react and update to any changes that occur, either in the state of the process or in the data in the form, he added.

"With workflows at [Marketform], there are just too many possible outcomes for any one person or team to follow it. So, the mission was to get just the right information, in front of the right person, at the right time to allow the right action," van Wyk said.

But, there was one additional requirement that needed to be met, or the project might have been doomed. "We also needed a great user experience. We didn't want to end up with an app that looked like a space launch center because it was so complicated," he added.

A K2 visual designer lets non-technie users tweak a user-friendly UI to suit their needs. Users do not need to be experienced forms designers; they can use simple controls to create and customize views, themes, styles and other display-related information. The forms can also be adjusted to show each stakeholder only the pertinent parts of a form they need to see or work with.

With the course charted, and technologies in place, K2 and Marketform set out together to bring the new world of "business process apps" to the well-defined work of workflow. The project started with the rules and the business logic, which were well defined. Then came the SmartForms, and their ability to bring data from multiple business apps into any form to match the stage of the workflow – even in real-time.

Then came the visual designer's ability to keep the forms simple and only display necessary fields, what's next items for that stakeholder, next-step options for the workflow (automated or manual override), etc. "The more we progressed with [Marketform], the more we saw the entire solution was standing on the shoulders of SmartForms and SmartObjects, coupled with the really clean UI which these made possible," van Wyk said.
III. K2 Data Connectors
The K2 data connectors (also called brokers) allow SmartForms, SmartObjects, workflow or reports to access all the outside data they need. Once set in place, these connectors can maintain real-time updates to all SmartObjects and SmartForms. They connect through service interfaces to automatically update to reflect the latest data for all fields, using data from the original systems.
Not surprisingly, K2's ability to input or extract real-time data also uses metadata models, this time in conjunction with flexible service endpoint architecture. "We never move data, we simply discover data and share it with a SmartObject or a SmartForm," Marcus told IDN. K2 has numerous data connectors into many popular data sources including Microsoft Dynamics, Microsoft SharePoint, SAP, SalesForce.com and all popular SQL databases.
Each connector is optimized for the APIs or endpoint service calls needed to access the data. Tapping into data using service endpoints helps speed the ability to make sure the data gets put (or exported) to the proper fields in the proper formats. K2 also uses methods to assist in this task. "We have methods that understand how to read from and write to these environment, which makes getting data much faster and with a lot less complexity," Marcus added.
Turning back to the example of the "Customer" SmartObject. The needed data for "Customer" can come from SAP, Salesforce.com, Microsoft Dynamics are other applications because of K2's library of connectors. They offer connectors that talk to endpoint services via SAP BAPI, the SalesForce.com API and many others.
"The K2 data connectors sit on the platform and talk to all these [interfaces], which in turn lets us create a composite model of the entity that represents 'Customer.' That entity is now an easy-to-use SmartObject that is always updating, can be easily embedded into other apps or forms (even non-K2 apps), all without writing code or doing mapping," Marcus said.
Should a user need something more custom, K2 offers an SDK that allows IT to connect the K2 platform and apps to other data sources, he added.
K2 CEO van Wyk put the company's architecture in a bigger picture of a growing tension between traditional top-down BPM and a newer bottom-up need for faster and more inventive business-facing solutions.
"There is a fascinating thing happening today. More innovation is coming out of the business units than IT. Often, that's because we have a new generation of worker coming up against traditional BPM, which can often reflect top-down thinking," van Wyk said.
This newer worker, he said, is used to getting instant results. "They want information in real-time. And, when they see a business problem, they are ready to jump in and just fix it quickly, and then move forward," van Wyk said. "To them, business processes aren't just about Six Sigma or process discovery to improve efficiencies. They are supposed to solve problems fast, for the better of the company and the customer. And this new innovation culture is why we developed our platform for process-driven apps."
Notably, K2's business process apps platform also can save a company from innovation that may go outside the lines. The K2 platform can also enforce guardrails for apps, SmartObjects and SmartForms with rich rules-based governance, visibility and management. This added engineering ensures any innovation does not violate policy or regulatory compliance, Marcus added.
To learn more about K2 and sign-up for a trial visit http://www.k2.com/try-k2