SnapLogic Updates iPaaS for APIs, Mobile Integration; Expands SaaS Library
SnapLogic's latest update to its iPaaS looks to push the boundaries for cloud-delivered integration and management for a number of hybrid IT projects. SnapLogic Integration Cloud Spring 2014, available in March, adds support for APIs, API management, analytics, mobile apps, performance monitoring, scale-out and updates for real-time and batch integration. IDN speaks with SnapLogic's Maneesh Joshi.
by Vance McCarthy
Tags: API, cloud, hybrid IT, integration, iPaaS, mobile, REST, SaaS, SLA, SnapLogic, expert voice,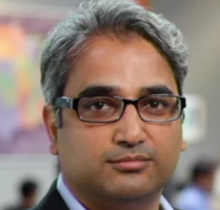 Maneesh Joshi
Senior Director,
product marketing and strategy

"We believe our approach to iPaaS offers new ways to leverage existing data and processes for APIs, cloud and mobile."
SnapLogic's latest update to its iPaaS looks to push the boundaries for cloud-delivered integration and management for hybrid IT. SnapLogic Integration Cloud Spring 2014 adds support for APIs, API management, analytics, mobile apps, performance monitoring, scale-out and updates for real-time and batch integration.

"We believe our approach to iPaaS offers developers and those in IT operations a whole range of new ways to leverage existing data and processes for APIs, cloud and mobile, and long term for reliable support for 'hybrid IT' – when companies are ready," Maneesh Joshi, SnapLogic's senior director for product marketing and strategy told IDN.

Building on its heritage as a SaaS integration platform, SnapLogic's Spring 2014 also adds to its large library of intelligent connectors, called Snaps, for a broad set of cloud and on-premises applications.

SnapLogic's CEO Gaurav Dhillon put SnapLogic's latest updates into a broader context this way: "There is no single, magical cloud where all of an organization's applications and data live in harmony [so] we must enable the integration of myriad enterprise and software-as-a-service applications, mobile solutions and devices," he said in a statement.

SnapLogic's Latest iPaaS Enhancements
for APIs, Other Integration Projects
SnapLogic's iPaaS aims to provide IT a fast, multi-point and modern cloud integration platform that will let companies go beyond hand-coding and point-to-point cloud integration tools, Joshi said. "A lot of [cloud integration] solutions that are point-to-point don't understand the EAI or business process. SnapLogic's architecture has the flexibility to [integrate] all of these," he added.

SnapLogic's latest API and API management features build on the company's long-time support for RESTful APIs.

Notably, SnapLogic Integration Cloud Spring 2014 introduces API management and metering for API and mobile app devs. "We've found customers are really interested in APIs for a number of reasons," Joshi told IDN. "They want to expose their business process as APIs and people find they can also use them to monitor the performance and reliability for their cloud integration [with off-premises SaaS]."

Joshi described the two main parts to SnapLogic's API strategy.

"For developers, you can turn a SnapLogic pipeline quickly into an API, which lets them cut way down on coding and complexity on integrating mobile apps with backend systems. For operations, we provide a graphical dashboard that lets IT monitor these integrations for scale, performance and whatever," he said.

This dual approach to RESTful API support means SnapLogic Spring 2014 can bring the benefits of APIs to a number of stakeholders.
For security, it offers companies the ability to grant API access to authorized users. </LI>
For performance, SnapLogic can let IT easily set metering for API SLAs, such as setting the number of calls permitted per day
For mobile, SnapLogic's approach to APIs delivers multiple benefits to devs and IT operations. It accelerate the test and deployment of apps by allowing devs to create and expose simple pipeline interfaces that will reduce the vast amount of hand-coding that is often needed to connect mobile apps/clients with backend data and systems. Further, this same pipeline can detect any errors of slowdowns in data flows. Overall, the SnapLogic architecture eliminates the need for complex mobile infrastructure to expose data across multiple backend applications.

"This latest SnapLogic iPaaS flips the switch to 'on' so customers can easily expose any of the pipelines they build as APIs, and share those with multiple endpoints without a lot of custom programming," Joshi told IDN. As an example, he said SnapLogic makes it easy for a company to expose backend data sets to mobile devs, making it very simple for them to integrate with or consume such data into their mobile apps.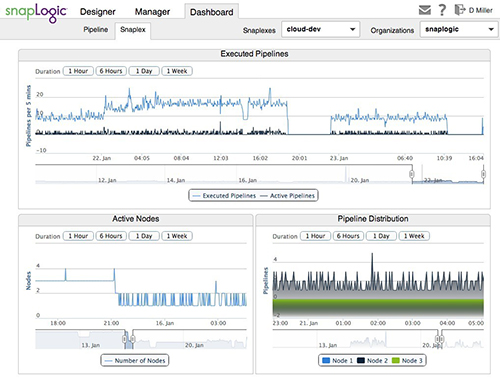 Getting rid of coding is no small benefit. It's not just faster – it's more accurate and so also improves the accuracy of mobile testing, Joshi said. "We heard from customers that they can have a lot of problems with using traditional SOAP or XML for their mobile projects. SnapLogic's approach overcomes many super technical issues, such as working with namespaces, tables and so on."

Other SnapLogic Integration Cloud Spring 2014 upgrades include

Performance Monitoring Dashboard.
This provides performance management views of end-to-end integration pipelines and execution networks. The new interactive dashboard lets users:
Visually inspect current and historical data to quickly identify and troubleshoot integration failures and reduce performance bottlenecks.
Drill down into a wide range of cloud and on-premises resources to monitor and troubleshoot active nodes and data flow distributions.

Data Integration, ETL for Cloud Analytics.
SnapLogic adds special ETL (extraction, transformation and loading) features to deliver better results from cloud-based BI and analytics projects. Joshi cited these top benefits:
Automatic schema creation, slowly changing dimensions (SCDs) Type 2 and enhanced database lookups for Amazon Redshift
SmartLinking and other improvements to field mapping

Simple UX, More Predefined "Snaps" for Quick Integration.
With each upgrade, SnapLogic engineers to help technical users become more productive, and even help some non-technical users do integration tasks. SnapLogic:
Simplified its HTML5 drag-and-drop designer tool.
Added new predefined integration "Snaps" to simplify integration to and from Amazon RedShift, Facebook, Twitter, FourSquare and OpenAir.
Enhanced functionality for popular enterprise targets, including Salesforce.com, Flurry, Microsoft Excel, Dynamics AX and SQL Server.

Enterprise-Ready Governance, Performance.
To further support high-speed, end-to-end integrations, the new SnapLogic platform increases performance 10 times. Key technical contributors were from parallel processing optimizations, performance tuning and scale. This edition also introduces of a hierarchical asset model, which lets users:
Create and manage access control through groups. This provides a simple and consistent permissions experience across all assets.
Delegate authority to departmental projects while retaining governance and control over integration projects.

SnapLogic Integration Cloud Spring 2014 will be generally available in March. To learn more or request a demo, visit http://www.snaplogic.com/snaplogic-editions/
Your Guide to Building the Connected World