MicroStrategy Rolls Out Analytics Solutions for Cloud, Mobile Information-Driven Apps
Long-time BI leader MicroStrategy Inc. debuted a new generation of solutions for enterprise-class operational analytics at January's MicroStrategy World user conference. Attendees say innovations for cloud, mobile and a new category of what the company calls "information-driven applications." IDN speaks with MocroStategy execs.
by Vance McCarthy
Tags: analytics, BI, cloud, Hadoop, MicroStrategy, mobile, expert voice,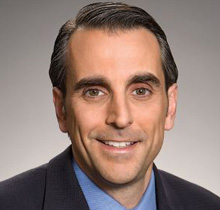 Paul Zolfaghari
president

"Customers want agile and self-service analytics capabilities [and] the ability to enforce data consistency and data governance. We say you can and should have both."
Long-time BI leader MicroStrategy Inc. debuted a new generation of solutions for enterprise-class operational analytics at January's MicroStrategy World user conference. Attendees say innovations for cloud, mobile and a new category of what the company calls "information-driven applications."

Under the covers, the capabilities look to address a number of issues, including support for new and multiple data types, faster performance, larger data volumes, security and governance of data across enterprise silos.

"MicroStrategy has always done well in the front end and with the visual slicing and dicing of data. And, we're also known for our architecture support for governance, performance and high volumes. In 2104, we're carrying those capabilities to help deliver innovation to mobile, cloud and Big Data, such as Hadoop," MicroStrategy president Paul Zolfaghari told IDN.

MicroStrategy is expanding its analytics product line as big data solutions are poised to go mainstream within enterprise companies, and competition gets fierce mindshare and market share.

One crucial key to MicroStrategy winning its share of the coming next-gen analytics business, Zolfaghari said, will be to underscore how MicroStrategy's foundation architecture will meet the self-service needs of business users without sacrificing IT's need for data governance.

"Many customers want more agile and self-service analytics capabilities for business users, especially as they look at mobile and cloud. To get that, some desktop and other new visual data discovery companies lead them to think they will have to give up their ability to enforce data consistency and data governance at the backend. We say you can and should have both," Zolfaghari said

In fact, Zolfaghari said, having both will prove crucial to capturing business value from investments in analytics. "There will always be a market for localized or desktop products. But, big value from analytics can only come when users can be sure of the consistency and trustworthiness of their data," he said. "We're architecting our enterprise technology to bring that best of both to new mobile and cloud [environments]."

Here are some highlights from the latest offerings revealed at MicroStrategy World:

Cloud. A new cloud-based massively parallel, in-memory analytics service, MicroStrategy Prime, brings terabyte scale, high performance analytics to the cloud for easy prototyping, adoption and management.

To ensure high performance from the cloud, Prime sports a massively scalable architecture, powered by a MicroStrategy-designed in-memory analytics capability pioneered through a partnership with engineers at Facebook. Prime, which stands for Parallel Relational In-Memory Engine, delivers extremely high performance, especially for use cases that require large data sets and complex analytical applications. It is built on the MicroStrategy Analytics Platform. Prime is a cloud-optimized version of an highly-performant analytics capability Microstrategy built for Facebook.to use on-premise.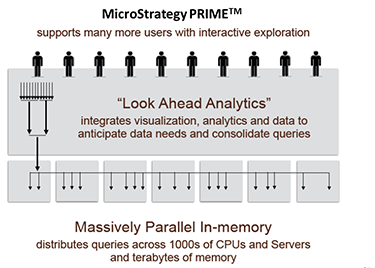 "We have two levels of cloud – a cloud express version designed for departmental users, and a full-blown analytics cloud platform, which includes basically our whole stack," MicroStrategy's director of products for enterprise analytics, Bala Chandran, told IDN. Just how full-featured?

"With Prime, our cloud now has BI, ETL, database and in-memory layers, everything you would need to run a very rapid big data proof of concept, as well as go to operations," Chandran said. MicroStrategy Cloud also allows companies to migrate their existing on-premises metadata repositories, data definitions and data governance or even start to build those from scratch. Prime pushes the envelope of MicroStrategy Cloud further, to support interactive analytics applications that can support up to hundreds of thousands of users, he added.

Mobile: MicroStrategy also rollout tactical and strategic offerings for mobile analytics.

A new MicroStrategy Analytics Express for iPad app provide users an iPad-optimized view of existing analytics applications. The app extends powerful self-service features to mobile users, Zolfaghari said, and provides touch features to let users slice and dice data; easily customize visual dashboards and reports; and even securely browse grids, graphs, visual insights, visualizations and dashboards.

MicroStrategy Analytics Express for iPad's self-serve features let end users:
Spin up to a terabyte of data at their fingertips[LR1]
Ask questions of their data using touch-optimized prompts and selectors
Collaborate with other users worldwide (with annotation and sharing)
MicroStrategy Analytics Express App, available on the iTunes App Store, is a self-service SaaS business analytics solution designed to help non-technical users analyze data on their own, without expert assistance. IT can use the MicroStrategy MEAP (Mobile Enterprise Application Platform) to build these apps.

In another mobile-related announcement, MicroStrategy Mobile App adds features to move beyond mobile BI to provide users with an intuitive, fast, and secure business app.

Among notable MicroStrategy Mobile App upgrades are:
iOS7-optimized to give users easy-to-use folder browsing, rich data visualizations and simple navigation through prompting.
Faster performance and capacity via upgrade to MicroStrategy 9.4 platform.
Enhanced analytics. MicroStrategy improved its visual insight dashboards with tap and drag capabilities, support for nested prompts and an enhanced library of visualizations.
New native transactional front ends. New front-end widgets can leverage native transactional controls in iOS for all transactional inputs (e.g., text, date, switches, barcodes, image capture),
More enterprise-grade security: Stronger security is available via app-level passcodes, double encryption, and integration with MicroStrategy's identity platform to validate logins.
Information-Driven Apps. MicroStrategy also released the latest details and a list of enterprise adopters for its "information-driven apps" – the next step in MicroStrategy's vision to let uses better operationalize their analytics to gain even more business value. The apps combine one-stop access to multiple information and analytics sources with one-click workflow functionality

By combining the two technologies, MicroStrategy wants to let front-line employees, those who regularly have contact with customers and partners, to not simply explore and analyze data – but also take action on that data to benefit the business.

"As we envision it information-driven apps deliver a rich cockpit for business right into the hands of workers," Zolfaghari said. MicroStrategy tools and platform technologies work together to help companies better empower business users consume analytics alongside a wide variety of other information sources, such as multimedia, transactional data and even unstructured data such as Hadoop. "We believe our ability to let companies operationalize Hadoop is a big step forward in delivering business value from big data projects," he added.

The information-driven apps leverage MicroStrategy's dashboard engine to let companies create information-rich, self-contained, workflow-based mobile-ready apps.

MicroStrategy showed an in-house example. An information-driven app for wealth management provides wealth managers a one-stop app for better interaction with clients. "From within a single, rich application, advisors can monitor markets and portfolios, conduct risk analyses and simulations, correlate analytic information with news and social media, and take corrective action based on market trends," according to the MicroStrategy data sheet.

Attendees also heard about real-word examples from luxury goods maker Gucci, beverage retailer Dr. Pepper/Snapple and pharma giant Johnson & Johnson. All said they are running "information-driven apps" to make analytics more actionable and boost top-line and bottom-line growth due to their ability to more easily generate transactions, quickly push workflows for more rapid approvals, collaborate with fellow workers and partners and improve customer care.

For all the technology improvements MicroStrategy unveiled for 2014, Zolfaghari said none will present companies with the need to rip-and-replace. "We are committed to building platforms that integrate with investments companies have already made," he told IDN.

That said, MicroStrategy execs admit they will continue to build technologies to support what they see as the next generation of analytics apps. One example is its new cloud-based in-memory for Prime. "Yes, we have built our own, but we will are also committed to be open to work with other [vendors]. We want to let customers enter this new analytics world and make the fewest number of 'other' decision" about what vendors they can and cannot work with to get there, Zolfaghari said.
Your Guide to Building the Connected World