ManageEngine's IT360 Real-Time Management Adds Enterprise-Class Features, Scale
ManageEngine is adding enterprise-class visibility, control and scale to its IT360 real-time management platform. IDN speaks with ManageEngine President Raj Sabhlok.
by Vance McCarthy
Tags: cloud, hybrid, IT360, management, ManageEngine, systems management, expert voice,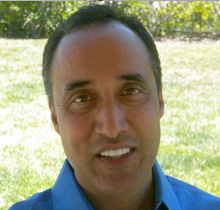 "Today, it's just as important to manage the data and applications that are running on the cloud, not just the cloud components.."
ManageEngine is taking its management game in hyperdrive to provide enterprise-class visibility and IT operations management across their far-flung and diverse network-connected resources.

Long known as a management option for mid-size and SMB firms, the company is adding super-size scalability, real-time, in-depth monitoring and diagnostics, and major improvements to support cross-department visibility and control, ManageEngine President Raj Sabhlok told IDN.

The latest update to ManageEngine's IT360 (version 10), builds out the company's unified IT management vision with functionality that aims to provide deeper, real-time visibility across the entire IT infrastructure from an easy-to-consume single console, he added.

"We're starting to see management is gaining more attention from CIOs as the new business models made possible by cloud, mobile and big data are putting more pressure on IT to make sure they are working," Sabhlok told IIDN. "So, today, the success and profitability of these innovative new business models are more dependent than ever on the new technologies, so IT needs all the help they can get to keep these up and running and performing at their best."

But, to provide that insight, systems need to watch and monitor traffic at many more data points, and so the challenge, according to Sabhlok, is not simply deploying more listeners – it's really to apply the proper and intelligent analytics or consoles to these data capture points so that more data doesn't simply overwhelm a system or an IT operator.

IT360 version 10 seeks to deliver this balance between more data and informed top-level insights that can be drilled into, as needed. "We know IT needs an easier way to get a unified view of their network assets and the health of those assets," Sabhlok told IDN. "That's the main theme behind this latest release of IT360."

He described how IT360 delivers on this "big picture" this way: "With IT360 we can take all the disparate events, activities, applications and traffic flows and consolidate all that detailed information into one pane of glass. This gives the organization the ability to look at all that data from different IT or business perspectives – and do it in real-time." Where needed, the IT or business user can drill down on any aspect of that data, especially when signals indicate sub-par performance, or a looming failure, he added.

The use cases are wide for these types of interactive, real-time views. A common one among ManageEngine customers is the ability to track, diagnose and optimize the performance of an e-commerce site to make sure the page time loads quickly to meet SLAs and customer expectations, he said. "With mobile, cloud and big data applications all coming on line, the numbers of these examples where the business case can be tied directly to management is going to explode," he added.

IT360 version 10.0 sports these enterprise-class upgrades:
Unified discovery. IT360 automatically scans a network to discover network devices, servers and applications and categorize them based on their configurations. The captured data goes into IT360's integrated CMDB (configuration management database). This enables IT to quickly and easily discover and configure all devices from a single discovery engine, regardless of the device category.
Super scale. IT360 now scales to monitor and manage some one million network interfaces, to accommodate a wide range of devices and resources.
Deep application-level performance monitoring. A new APM Insight feature provides in-depth monitoring of business-critical applications running on J2EE, .NET and Ruby on Rails platforms. This goes beyond parameters such as application and network response times to get deeper information that impacts performance, so that IT can analyze the transactions and tracing of applications at the code level. APM Insight also lets IT admins use Apdex scores to track an application's user satisfaction levels.
IP address management; Switch-port mapper. To help data center admins keep track of all devices and their related switch port connections, IT360 automatically discovers devices plugged into each switch port. It can also check the operational status and speed of each port, as well as scan all IP addresses in a subnet.
Project management. A new IT360 project management module lets managers plan and track projects, set milestones and tasks, schedule various events and assign tasks. This technique also helps ensure efficient planning and execution of IT projects by letting IT teams manage those projects from inside IT360.
Enterprise Search. This cross-platform enterprise search capability provides IT quick and simple access to a unified view of its resources. IT360 lets users conduct a simple Google-style query on all their management databases, and get results back from any management tool that uses a relational data store.

"Enterprise search may not sound like a management feature per se. But the way we've built it into IT360, we can let IT teams quickly input any term and from a single console give them results from not just our system, but from any third-party management system, database or business application," Sabhlok said.

The Outlook for Hybrid IT Management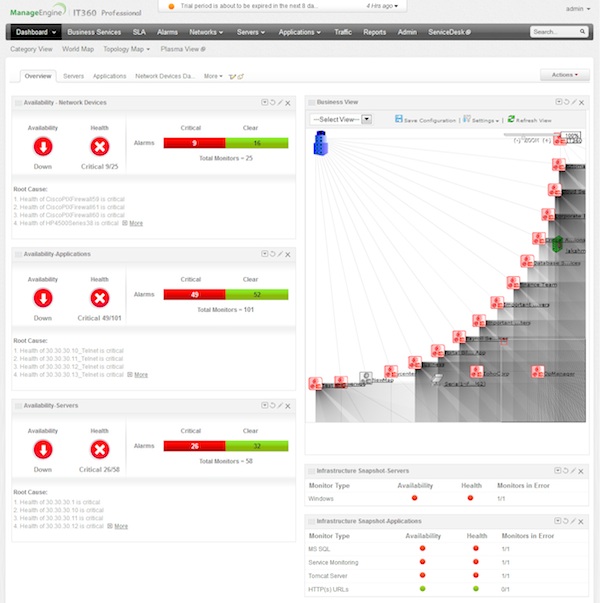 Cloud, mobile and big data innovations will continue to drive customers to look for new ways to use IT management to ensure the performance and availability of all sorts of new applications. This has become business critical, especially as these apps are deployed for both employees and end consumers, Sabhlok noted.

"Two decades ago, systems management was about monitoring and managing the network components. Today, it's just as important to manage the data and applications that are running on the cloud, not just the cloud components," he told IDN.

One customer shared benefits his firm is getting from IT360 v 10. Jason Beckett, enterprise system administrator at Prime Healthcare Services, said, "We have a huge infrastructure spread across several locations. Being able to capture all of our systems automatically rather than relying on an import of a CSV file will greatly ease the administrative overhead. Our company is growing through acquisition, so the auto-discovery feature will greatly streamline adding all of the devices of the new companies we are adding."

This type of customer benefit underscores the new types of questions IT should be asking when it comes to evaluating management solutions for today's requirements. "Customers have forgotten the reason they are buying the management tools and they want quick resolutions to problems, and they get sidetracked on the easy to install, the UI and so on," Sabhlok said. "While those are important considerations, the priority customers should focus on is 'What kind of out of the box answers can this tool give me?'"

IT360 10.0 is available as a download here.