Actian's Purchase of Pervasive Highlights Convergence of Big Data, Integration
The latest sign that big data and cloud integration will prove a powerful combination is the acquisition of Pervasive Software by data management firm Actian Corp. IDN speaks with Actian CTO Mike Hoskins about how the new firm plans to help companies connect, analyze and act on data at scale.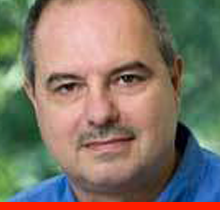 "The move to a data-driven enterprise will change the definition and nature
of integration."
The latest sign that big data and cloud integration will prove a powerful combination is the acquisition of Pervasive Software by data management firm Actian Corp. The acquisition, announced at Pervasive's IntegrationWorld annual user conference last month, opens a new chapter in the history of Pervasive, and a new window on a new direction for data integration.
IDN speaks with Actian CTO Mike Hoskins about how the new firm plans to help companies connect, analyze and act on data at scale.
"We have irrevocably passed from the 'Age of Software' to the 'Age of Data,' in which organizations need to adopt contemporary architectures to master data ubiquity, on premises and in the cloud," Hoskins said. Prior to the acquisition, Hoskins was Pervasive's CTO.
As companies look to invest in big data and analytics, integration will be a crucial linchpin, Hoskins added. "The move to a data-driven enterprise will change the definition and nature of integration. Knowledge about data is the key to the next wave of integration," he told IDN.
Just in the last few weeks since the announcement of the acquisition, Actian's big data portfolio reflects Pervasive's integration and cloud innovations. Actian DataCloud is a cloud platform for managing data including a powerful integration suite architected to provide frictionless and elastic access to any data on premises or in the cloud.
"Big data can and will impact every industry as organizations struggle to take action on their data due to legacy technology too rigid or expensive to scale. Actian's innovations make it easy for organizations . . . to connect, analyze and act on their fast-changing and fast-growing diverse data assets throughout the entire data lifecycle," said Actian CEO Steve Shine in a statement.
Rather than simply use integration to move data between silos or connect to service interfaces, integration will need to know much more about the data it's carrying. "With its acquisition of Pervasive, Actian is bringing together data and integration technologies to deliver highly-scalable, elastic and high-performance solutions optimized to let companies take action with big data," Hoskins said.

As Hoskins sees it, the next wave of impactful integration solutions will understand concepts of master data, data semantics and know the best ways to bring together structured and unstructured data for business value. But there's more.
"Integration will also need to know how to use data and analytics to drive smart forms and process flows – all without the need to make users do time-consuming steps, such as data mapping," he told IDN.
Data-Centric Integration Will Also Boost
Enterprise-Wide Business Value from SaaS
One other trend Hoskins sees is the second wave of cloud integration – a more intuitive set of data-centric integration technologies that will drive more business value from SaaS and cloud adoption.
"While SaaS adoption has been tremendous the last few years, the real promise of SaaS has been missed and is yet to come," Hoskins told IDN. While SaaS can quickly on-board business users for sales, marketing and other jobs, that data often remains in silos and that can create data chaos. The next wave of cloud integration will eliminate that chaos, he said.
"Some SaaS users love their applications but when they create custom objects or don't adhere to rules about how to enter their data, other applications or databases don't know how to use or update with that data. What companies need are technologies that will provide easy ways to child-proof data entries against chaos," Hoskins said.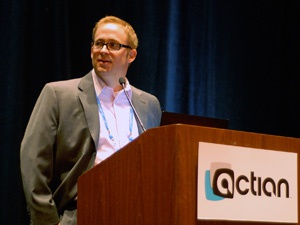 Lance Speck, Actian vice president and general manager of integration at IntegrationWorld
This approach to cloud integration for SaaS would allow enterprises to easily unify all their data from on-premise and across the cloud so that users can quickly get to the data they need and have that data always up to date.
To paint the picture of what this would be like, Hoskins turns to Google's search engine. "At Google, engineers have worked with algorithms, caching and other data sciences to quickly identify and index data from millions of locations in a way that the end user simply has one blank filed he can type into to find what he wants," he said. "That's what integration should be able to provide to business users within the enterprise."
Actian will leverage Pervasive's seamless "unified platform" for integration, which provides a single platform to support development and deployment on the cloud or on-premises, according to Lance Speck, vice president and general manager of Integration at Actian. Pervasive's technology is also adaptive to help Actian address many types of use cases, including consumer-focused, enterprise-scale or vertical market-oriented, he added.
Speck told IDN that those customers looking for cloud-based integration are also asking for "more intelligence in the agent." At IntegrationWorld, technology updates were announced that provide bi-directional support with a self-updating mechanism. This update means agents can also keep integrations up to date with any bug fixes or new functionality as updates become available, Speck said.
Actian will also leverage Pervasive technologies to deliver smarter, simplified dynamic mapping functionality, event-based capabilities and more data and integration management, he added.
One analyst said the Actian/Pervasive deal has the potential to show how blending big data with integration will change how companies think about big data applications. "This is a powerful merger as the technologies of the two companies are industry leading and clearly very complementary," said Robin Bloor, chief analyst and co-founder, The Bloor Group. "This is particularly the case in the area of highly parallelized and scale-up, scale-out data integration and database."
In short, the Actian/Pervasive portfolios will combine to make it easier for companies to design, deploy and manage enterprise-scale, data-centric integration projects, Hoskins noted. "Those companies that can reduce friction of data integration projects to produce impactful business outcomes will be the winners," Hoskins said. "That means being ready for big data and providing smarter technologies that will get projects not stuck in the IT weeds, but delivering business value more quickly."
Even after the Pervasive acquisition announced in late April, Action continues it big data spending spree. In late April, Actian acquired high-performance analytics provider ParAccel formance analytics. The technology is now offered alongside Actian Vectorwise and Actian RushAnalytics to provide an analytics-optimized suite. The products are architected to exploit modern chips and multi-core servers to provide predictive and ad-hoc analysis at extreme scale and speed, including the acceleration of today's Hadoop solutions, according to Shine.
In early May, the company also announced a big data partnership with mLogica to deliver high-performance analytics solution from secure cloud environments.
Actian is a leading provider of enterprise-scale big data and analyze solutions to major industries, including retail, ecommerce, healthcare, manufacturing, finance and social media. Notably, Actian is the company behind the open source database Ingres and the Vectorwise analytics database.