MuleSoft's APIhub Unites API Devs, Publishers To Power 'New Enterprise' Projects
MuleSoft is responding to the explosive interest in APIs with APIhub, a community site to unite API adopters and publishers. APIhub aims to let devs easily discover, evaluate and consume more than 13,100 APIs – and growing. It also helps publishers get their APIs found and adopted. IDN speaks with MuleSoft CTO Ross Mason. data.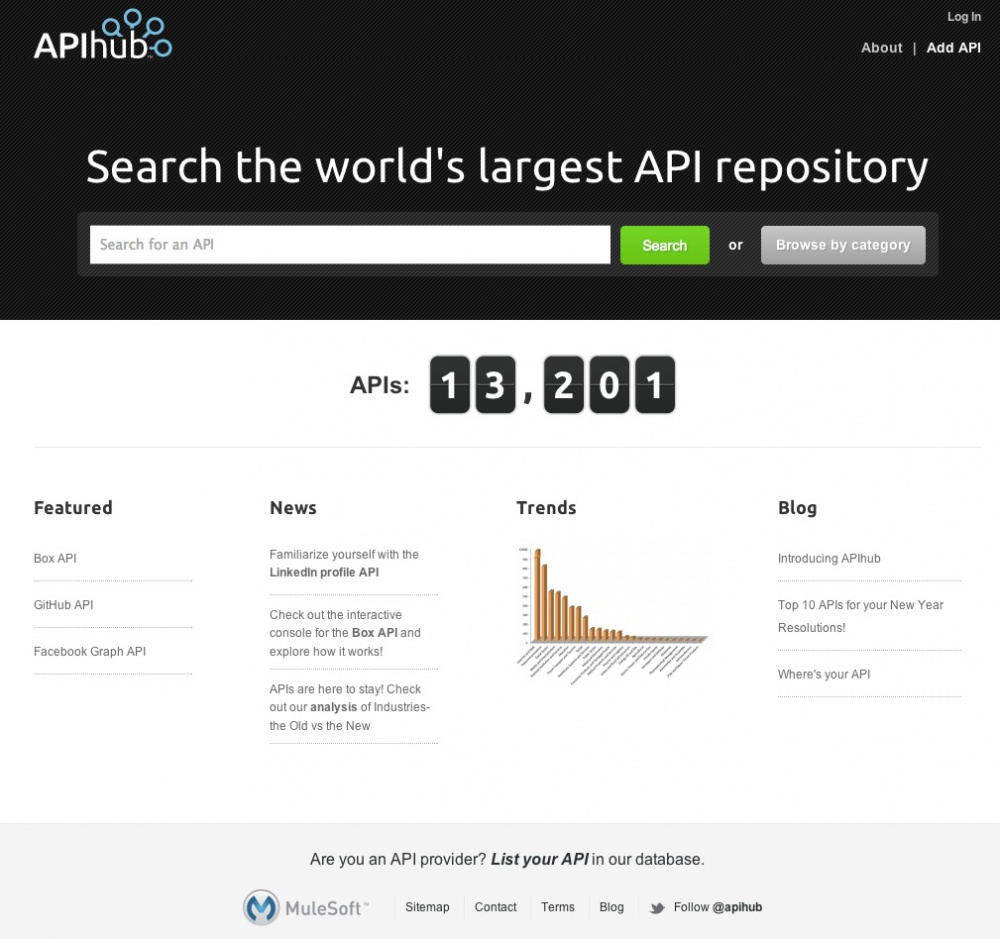 MuleSoft is responding to the explosive interest in APIs with APIhub, a community site to unite API adopters and publishers. APIhub aims to let devs easily discover, evaluate and consume more than 13,100 APIs – and growing. It also aims to help publishers get their APIs found and adopted.

"APIs are becoming a powerful foundation for quick and powerful ways to tap into and integrate with new apps, services and data that may be in SaaS apps, mobile apps or big data stores in the cloud," MuleSoft CTO Ross Mason told IDN. "So, with APIhub, we want to accelerate their use, by helping both developers and producers."

API developers, publishers can access APIhub for free at www.apihub.com

APIhub, in fact, offers features and capabilities that span an entire API lifecycle for both API consumers and publishers, and include:
An easy-to-search comprehensive repository of APIs, including documentation. (API hub now sports more than 13,100 APIs in its directory).
A one-stop online sandbox, where interested devs can securely test their API dev projects,
Interactive features to allow API consumers and publishers to communicate with each other about technical, business and go-to-market issues.
A smart forms-driven way to help API publishers upload their API, supply documentation and supplemental education materials, and even surface their API to the APIhub sandbox feature which lets devs test drive APIs in a secure environment.
Rich community content, including discussion forums, tips and tricks, ratings, code samples and client libraries.
MuleSoft engineers put a lot of thought into these features. "With the incredibly rapid proliferation of APIs also come challenges. One of the main ones is that today there is no standard place developers can go to find and learn about APIs, and publishers need help to get their APIs known," said Sumit Sharma, MuleSoft's director of API solutions. "Think of APIhub as a GitHub for API."

APIhub will add API updates frequently, with the goal of being one of the industry's largest API directories, Mason added.
"SaaS, mobile and big data are converging, and APIs underpin many of these efforts."


Ross Mason
CTO and Co-founder
MuleSoft

Beyond offering a large directory, APIhub uses a rich taxonomy to describe APIs to let devs probe deeply into the technical make-up of APIs, and explore objects/resources, their methods and experiment by making calls to APIs and measuring response times, Sharma added. Each API has its own list of simple-to-access resource folders and users can also check documentation, community comments, ratings and more – all from one page.

As valuable as devs will find a super searchable API database, Sharma said his research showed devs want more. "Developers want a reliable, full-featured central location where they can not only find and learn about APIs, but also test out their ideas and run API projects," he said. "We have added a sandbox to APIhub, where developers can try out APIs and get test feedback of how they work and how quickly they respond to workloads."

APIhub provides API publishers a trusted place to document APIs, engage with devs and effectively manage – and even monetize their APIs. Capabilities let API publishers easily create interactive document and code samples, as well as ensure their APIs conform to various API specification formats to promote easy consumption by devs.

Inside MuleSoft's APIhub as the
First Pillar for the New Enterprise
APIhub is the first pillar of MuleSoft's strategy for connecting the New Enterprise. "APIhub will support a new end-to-end platform for publishing, discovering, using and managing both internal and external services and APIs," Mason said.

MuleSoft CEO Greg Schott put it this way: "APIs are the lingua franca for the Web, underlying all of these mega-trends and changes in the enterprise."

"Everyone is talking about SaaS, mobile and big data, but companies need to realize that the power is in bringing it all together. If enterprises don't get that, they'll be left behind," Mason told IDN. "We're seeing the adoption of SaaS, mobile and big data converge, and in those companies we find it's APIs that are underpinning many of these efforts."

Mason shared some architectural insight into why APIs are so strategic to the adoption of new SaaS, mobile and social strategies. "Used properly, APIs can leverage web standards to create a common language for a new kind of platform – one that connects and takes advantage of an explosion of endpoints and data," Mason said.

"A new tipping point comes, where enterprise IT begins using more and more services and data outside their firewall," Mason predicted. It is in this context MuleSoft designed APIhub – to provide a way to help corporate IT and individual developers quickly adapt to these new ways to connect, share and manage data and apps, he added.

"Competitive advantage no longer comes from customizing your enterprise applications, but by integrating the best combination of applications – whether they are built by you or someone else," Mason said. "So, APIs, in this way, will drive this new enterprise architecture, changing integration, apps and operations to let IT create the new enterprise apps."

APIhub's features, and the visions behind it, are getting strong endorsements from API leaders.

"As REST APIs have become the core building block of application development, developers should be moving toward an API-first approach to software architecture. Creating an information hub where the development community can focus on APIs is the next big step in this direction," said Tony Tam, CEO and technical co-founder of Wordnik, in a statement. Tam is also a committer on the Swagger API open source project.

"Open APIs have become more important than ever as enterprises break away from legacy applications and move to the cloud. Our open API is a critical element of our business strategy," said Chris Yeh, vice president of Platform at Box, in the statement. "MuleSoft's APIhub is a great step toward providing a focal point where developers can easily find and consume APIs, and where open platforms like Box can drive interest and adoption of our service, ultimately better serving our users through the power of community."

APIhub also provides features to support API management, including a cloud-based service registry/repository to govern and manage all of their internal services and APIs, both on-premise and in the cloud

APIhub is a free online resource for developers, SaaS vendors and enterprises. To join the community, visit: www.apihub.com.