Jitterbit 5 Improves 'Two-Way Integration' for Flexible Cloud, Mobile Adoption
Jitterbit's latest integration solution aims to make it easier to integrate data and processes across on-premise, cloud, SaaS and mobile easier, faster and more reliable. IDN speaks with Jitterbit's Andrew Leigh about why CIOs want a "two-way street" for integration between 'front office' and 'back office' systems – whether on-site or in the cloud.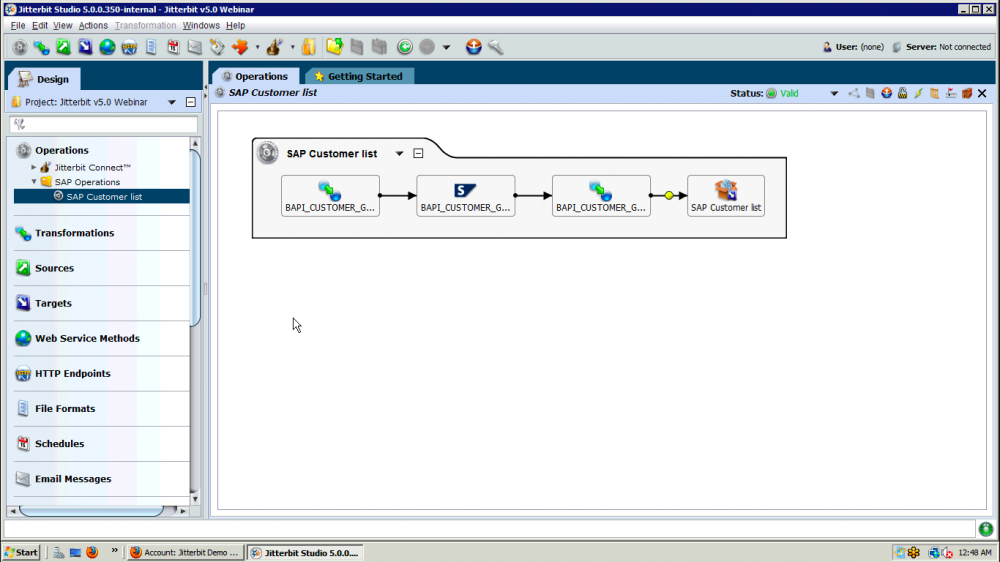 Jitterbit's latest integration solution aims to make it easier to integrate data and processes across on-premise, cloud, SaaS and mobile easier, faster and more reliable.
Jitterbit 5's approach reflects growing requests from CIOs for a "two-way street" for integration between their 'front office' and 'back office' systems – whether on-site or in the cloud, according to Andrew Leigh, Jitterbit's vice president for products.

"The whole world has changed in the last 24 months," Leigh told IDN. As cloud and SaaS systems become easier to use and mobile projects are easier to deploy, Leigh said the result is transformative. "IT is now looking at integration as an important way to safely and efficiently connect their cloud, mobile and on-premise worlds," he added.
Click here for more Jitterbit 5 details or for the 30-day trial

To illustrate the point, Leigh noted that for many companies the Salesforce SaaS is the first place employees go to find information about their customers, and even enrich data using social media apps, such as Chatter or LinkedIn. Users then pump that data back into their back office systems to support billing, shipments and other operations. "Today, customers just don't on-board data to the cloud. They want a two-way street between back office and front office systems," Leigh added.
"Today, customers just don't on-board data to the cloud. They want a two-way street."

Andrew Leigh
vice president for products
Jitterbit
Jitterbit 5, just out of a two-month beta, will hasten design, boost performance and simplify management to help IT adapt to the speed and agile nature of enterprise architectures that embrace cloud, mobile and social apps, Leigh said.
One of the more notable features in Jitterbit 5 is the expanded approach to code-free integration, using a set of new smart configuration wizards, Leigh told IDN.
These configuration-based wizards are designed to be especially useful for integrating with complex systems, such as SAP. "With wizards, you are basically filing out a form or answering a set of Q&As. You pick the functions you want based on your requirement or SAP [version], and we automate the connections between the source and the targets. This could take a programmer a week or more, and they would need to know how to work with [SAP BAP]," Leigh said. "We hide all that complexity and simply present a form to configure, without coding."
New connectors in Jitterbit 5 support Salesforce, SAP, and Microsoft Dynamics, as well as Twitter, Chatter, and other popular social and mobile applications.
Jitterbit 5.0 also sports these new features:
Expanded Mobile Apps Support. Jitterbit 5 can work with many mobile app dev platforms to provide the mobile containers devs need to build those apps that need to access data from multiple systems. Further, it supports REST APIs, LDAP and OAuth security solution.
Instant "One-Click" Views. Improved management of integrations with "one-click visibility" into results of integration operations – all without leaving the design tool Jitterbit Studio. This allows devs to see which records were successfully transmitted as part of an operation, do testing and bug-tracking of integrations quickly and even determine how to fix errors, if any. Jitterbit Studio also adds an ability to dynamically ensure the management of only that data that's selected.
Enhanced Process Integration. Jitterbit's "formula builder" adds 18 new functions to its logic library to offer more options for code-free integration and configuration of data transformations. To ensure business-reliable process integration, Jitterbit 5 also offers real-time, event-based features.
Higher Performance. Jitterbit 5 offers several enhanced features to boost runtime performance of integrations, including parallel processing, multi-threaded/data chunking and high-speed transformations.
Real-Time Process Monitor. Enhanced monitoring and management features track complex chained operations in real-time for process integrations, including ability to find and fix issues within the operation chain.
Support for Large Volume Cloud APIs. Adds support for large-volume cloud APIs, which makes it up to 10x faster to move data to Salesforce.com and other popular SaaS and cloud services.
Enhanced Support for Complex Integrations. Jitterbit 5 also adds source validator, as well as support for dynamic schemas, local variables, complex objects and the Salesforce Complex Query Builder.
Enhanced Security. Supports data encryption, secure firewall mediation and offers complete integration logs.
Data Validation. Adds features to help with data validation, quality and accuracy. Jiterbit 5 looks at data in the originating (source) application, then does data validation to make sure it is correct before it is shared. If correct, Jitterbit does the transform.
How Jitterbit 5 Enpowers the 'New Enterprise' with
Two-Way Integration for Front Office, Back Office
To understand the forces driving Jiterbit 5's features, Leigh painted the picture of the "new enterprise," where cloud, mobile and social are changing how IT thinks about traditional "back Office" and "front office" operations.
"Rather than thinking about integration as an after-thought, CIOs and others in IT think about integration today as a way to improve time-to-value," Leigh said. The big impacts on time-to-value are in how companies are empowered to adopt cloud, mobile and social apps for their business users, while maintaining the end-to-end integrity of their current systems.

Leigh described it this way: "The world of IT is now a new conversation between the back office and the front office. It used to be the back office where companies would differentiate and be competitive. Today, it's the front office where companies are truly competing – whether they think of it that way or not," Leigh said.
"For many CIOs, their back office has been completely blown open by these cloud and mobile options, and they need to work with dozens, if not hundreds of new [cloud-based] front office solutions that are more agile and less expensive to operate," he added.
Jitterbit 5 is available now for current customers and as a free, 30-day trial for new adopters.