WatchDox Updates iOS App for Secure Mobile Document Access, Sharing
WatchDox, a provider of document-centric security, access control and secure collaboration, is adding features to its iOS application for Apple iPhone and iPads. The new app adds document access and sharing options, annotation tools and a sports a new interface. IDN speaks with WatchDox chief product officer Ryan Kalember.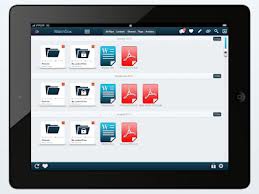 WatchDox, a provider of document-centric security, access control and secure collaboration, is adding features to its iOS application for Apple iPhone and iPads. The new app adds document access and sharing options, annotation tools and a sports a new interface.

"With cloud and mobile apps exploding, enterprise data today ends up all over the place, and architects and CIOs know there's a ton of things going on with that data that they are losing control over. That's a worry," WatchDox chief product officer Ryan Kalember told IDN. "And, that's why we think IT and business users can use a whole new set of security tools to deal with that 'data-anywhere' problem."

WatchDox's latest iOS app features make it easy for iPads and iPhones users to securely view and share documents and gives IT added visibility, control and metrics about document access, read/writes and other activities.

WatchDox takes a policy or governance approach to document security and control, which differs from device-centric approaches to mobile device management (MDM).
"When we show [WatchDox] features for both IT and end users, security guys salivate."
Ryan Kalember
chief product officer
WatchDox
"We're not managing the mobile device. We're focused on managing the document and the data that goes with it," Kalember said. "A PowerPoint file has no idea of who can read, send or print it. And it has no idea of how to optimize itself for different mobile platforms. So, we make that PowerPoint document smarter by building in security information for the IT department and usability data for the end user of that document."

A major update to WatchDox iOS app is what the company called an "Open in WatchDox" feature. This lets users open email attachments, PowerPoint, Excel or other document on their iOS smartphone or tablet using WatchDox. When a document doesn't display well in the native iOS email client, it can be uploaded to WatchDox where it will be clearly displayed. Users can also mark up uploaded documents (comments, highlights, illustrations, etc.) and share it with others by sending it with WatchDox Exchange or upload it to a workspace.

Other WatchDox iOS updates includes:

On-demand workspace creation: When someone uploads a new file to WatchDox through Open in WatchDox, any user with the right credentials can create a new workspace or folder on the go.

Free drawing annotations: This lets users draw annotations in a document.

"When enterprise users open their WatchDox app, they see their own synced documents, workspaces for documents they're working on with colleagues and third parties, and even files they've sent or received in WatchDox-protected emails," Kalember said. "This gives them greater usability than a consumer file sync app, and reduces security risks from shadow IT like Dropbox and Box."

WatchDox' latest iOS app come as a survey by Gartner Inc. finds almost 60% of enterprises plan to standardize on Apple's iOS by April 2013 as more users want to use their personal Apple devices for work.

WatchDox's document-centric approach enables WatchDox to help both IT admins and end users. IT security professionals gain control and visibility of documents – even when they go mobile or into the cloud. IT admins can control a document from creation to completion. The new iOS app lets enterprise IT stop recipients from forwarding, downloading and printing the document. The IT department can also revoke a user's access to a document at any time.

For their part, end users gain easier ways to comply with security requirements – and even get a better user experience. WatchDox has pixel framing technology that will render the document to the appropriate end user screen, whether a desktop, browser or mobile device. "That's one of the carrots we give users, they always can get 'pixel-perfect' displays of their document," Kalember said. "We asynchronously convert it to it displays across all devices." WatchDox also sports an interface to Microsoft Office and Adobe.

The ability of its governance platform to offer benefits to both IT and end users also makes WatchDox different from traditional ECM (enterprise content management) and Document Right Management approaches from an earlier time, Kalember added. "DRM was all stick and no carrot. So, those systems often failed because users didn't see any benefits to using them.

Kalember listed some top WatchDox features that are attracting attention from customers and prospects, even from F1000 firms including:
Securing email attachments.
Providing security across all end user devices – desktop, web, smartphone and tablets.
User-friendly, "pixel-optimized" viewing of document for all platforms.
Tracking and reporting metrics for compliance and analytics. Metrics help manage document access by device, uses, updates (as permitted), etc.
Definable workspaces, which let IT secure end-to-end access to documents across departments, as well as outside firewalls with company partners and customers. Notably, beyond access control, WatchDox can also let IT set more defined rules for how non-authors can access their documents, and can even tie in with other security mechanisms (Microsoft's Active Directory, Ping Identity, etc.) to provide detailed user-focused privileges.
BYOD-safe documents. In the event a mobile device is lost or stolen, it will destroy sensitive documents remotely, without impacting personal data.

"When we show all these features for both IT and end users, security guys salivate. It's rare to find a security company that can not only support IT's security concerns, but also drive user adoption by giving users what they want too," Kalember said.

WatchDox Powers Secure Sharing for Deluxe
The benefit of a having a document security system that gets adopted by end users is illustrated at Deluxe, the famed producer of films and TV shows. The company recently adopted WatchDox to share and protect documents between employees, partners and customers.

Deluxe needed a method to securely share documents with customers and partners when working on what appears on a final Blu-ray or DVD release. The sensitive information (testing plans, e-verifier reports, cut sheets, etc.) needed to be safeguarded against data loss and even piracy, according to Gregg Johnson, vice president of operations for Deluxe's technology services group.

WatchDox ensures seamless and secure collaboration and file transfers, and lets Deluxe protect, control and track shared documents throughout the entire document lifecycle, he said.

"WatchDox's ease of use has become a competitive advantage for us," Johnson said in a statement. "Because WatchDox is so simple for users to adopt, they do so enthusiastically, which ensures that every content file we share with a partner company stays secure, no matter where it goes."

WatchDox is available as a SaaS or on-premise option.