Kapow Upgrade Simplifies Launch & Runtime for High-Value Business Apps, Integration
Kapow Software is shipping an update to its application integration platform to let business users quickly launch and easily manage apps with multi-step workflows and integrations. Kapow Katalyst 9.1's innovative Kapplet model delivers automated, high-value apps for business and big data – with just one click. IDN speaks with Kapow's CTO Stefan Andreasen.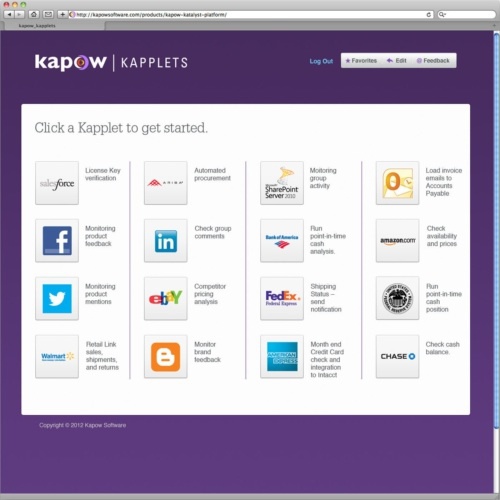 Kapow Software is shipping an update to its application integration platform to let business users quickly launch and easily manage apps with multi-step workflows and integrations. Kapow Katalyst 9.1's innovative Kapplet model delivers automated, high-value apps – with just one click.

"Kapplets are lightweight, self service apps that put the power of the Kapow Katalyst no-coding integration platform into the hands of the line of business users more quickly," Kapow's CTO Stefan Andreasen told IDN.."We can deliver the data, generate the reports and put multi-step workflows in place – all without the need to ask IT each time."

Kapplets give customers very simple access to any data, on-premise or anywhere out on the web. They also simplify business tasks and interactions between systems – both within their own company, as well as with outside cloud-based systems, customers and partners, he added.

Andreasen explained the business driver for Kapplets quite simply: Business users need easier-to-launch business apps so they can do day-to-day tasks more efficiently.
"With Kapow Kapplets, Kapow has taken our idea of no coding integration and data access all the way out to the last mile, to the business end user."
Stefan Andreasen
CTO
Kapow Software

"Kapplets let IT leverage Kapow's automation for data retrieval and integration to provide these capabilities directly to end users," he added. "For me, this release, with Kapow Kapplets and other features, is the biggest release we've ever done. We've taken our idea of no coding [integration and data access] all the way out to the last mile, to the business end user so they can run and manage business apps quickly."

Using Kapow's platform and Kapplets, IT can build new business apps as quickly as building a simple workflow – without coding, Andreasen explained.

To get started on a Kapplet, a business user simply describes the steps of a manual processes (order-to-cash, account payable, etc.). Then, IT renders the steps into a Kapplet that automates the entire process (workflow, integration, data access, etc.) using the Kapow Studio visual toolkit. IT assembles the Kapplet without coding, and delivers it to business users as a pre-orchestrated automated version of their full process – and it is ready to be instantly deployed, run and managed by the business user.

For their part, the line-of-business users get an icon for that app right on their desktop that they can launch with one click, Andreasen said. Once launched, the Kapplet provides results in real-time to the user's desktop, inbox or mobile device, he added.

Andreasen expects Kapplets will prove very valuable to address unmet needs to automate day-to-day reporting and other manual tasks. "These kinds of applications are the 'long tail,' and they don't always get a lot of attention from IT. But these are very important to productivity of day-to-day workers," Andreasen said. Further, because Kapplets do not require complex coding, they are easy for IT to assemble and customize for each business user.

As an example, Andreasen described a Kapplet project done at Kapow – the common and time-consuming task of handling corporate expense reports.

Someone on staff has to go to Amex and type in the credit card number, download a spreadsheet and then check expenses for every employee, he explained. After that, the staffer then has to review the spreadsheet for categories (such as travel for what project or client, non-travel business expenses, etc.). At Kapow, they also needed to log into an ERP system to upload the reviewed expense information.

At Kapow, this process was done manually and could take 45 minutes per employee. It took less than an hour for IT to design a Kapplet that would automate the process and cut the time to five minutes or so, Andreasen said. With one-click the employee can now launch a Kapplet, enter a credit card number and run a completely automated business app that handles all required tasks, workflows and integrations. In addition, IT can easily update the Kapplet in minutes as needed to support new data, rules or target applications, Andreasen said.

Kapow's approach to Kapplets also will be a boon to companies looking to deploy big data apps that can tap multiple on-premise, web and cloud data sources, he added.

Other notable Kapow Katalyst 9.1 features include:
A new licensing model that scales to companies' dynamic capacity requirements, while leveraging existing investments in virtual server infrastructure
An on-demand "compute unit" license model for more flexibility and usage-based pricing
An elastic virtual runtime environment that can be deployed independent of hardware configuration, whether integration solutions are located in the cloud, on-premise or in a hybrid environment
More dynamic allocation of compute capacity with automated load distribution and failover for improved reliability and flexibility
A new XML data mapper for XML and JSON data sources to boost productivity when using XML and Web services. It lets IT create the type, variable and extraction steps required for extracting data from XML sources with one rapid wizard.

One analyst said Kapow's Kapplets approach will provide speed and depth-of-knowledge benefits. "By accessing more data across legacy, cloud and social media apps . . . business users can now gain real-time access to nearly any data set or application information to help them quickly gain analysis advantages without the need for complex data mining, warehousing or business intelligence solutions," said Dana Gardner, president and principal analyst at Interarbor Solutions.

Beyond their automation and self-serve features, Andreasen noted one other benefit Kapplets provide. "A big value from Kapplets is that they can be easily customized and even personalized to meet needs of business users. If IT can't personalize apps, they might not get used as often as they should be," he said.

Kapplets provide a number of ways for IT to customize Kapow's capabilities to match the way their end users work with data and applications, including pre-set icons, bookmarks and other features.