Perceptive Adds Process Mining to BPM, ECM With Perceptive Reflect
Perceptive Software, a provider of BPM and ECM solutions has rolled out its Perceptive Reflect process mining and visualization product. Perspective Reflect lets user quickly visualize breakdowns or bottlenecks in business processes, officials said.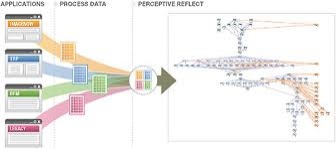 Perceptive Software, a provider of ECM and BPM enterprise content management and business process management solutions, has rolled out its Perceptive Reflect process mining and visualization product.

With Perceptive Reflect, users can quickly visualize the way applications and people are working as well as identify the breakdowns in the process that leads to wasted time and effort, The product performs historical workflow visualization and analysis so it can pinpoint bottlenecks and improve business processes by making them transparent.

"Perceptive Reflect makes processes transparent so that you can address the true bottlenecks at a fundamental level, instead of spending your time trying to discover and define them," said Perceptive CTO Darren Knipp in a statement. The capability provides businesses accurate, objective pictures of how things are really working, and more importantly, it also gives business analysts objective data so executives can make better decisions for their companies in the future, he added.

Perceptive Reflect provides users:
Visual representation and customizable presentation of processes activity including social network graphs
On-screen controls that can instantly select how much detail a process model should show
The ability to identify exceptions or unusual transactions outside normal business rules, supporting compliance
Filtering controls to focus on specific process data by personnel, departments, date ranges, etc.
Perceptive's hybrid data model (core to Perceptive Reflect and Perceptive's ImageNow ECM platform) separates document metadata from the document itself, to allow each component of application data storage to do what it does best. The structured storage of a relational database is optimized for data, and can swiftly save, search and retrieve document metadata without having to deal with large binary document files that some systems put directly in SQL tables.