Scribe Online Targets Mission-Critical Integration for Hybrid Clouds
Scribe Software is taking aim at mission-critical integration for hybrid cloud. Scribe Online is a multi-tenant framework that runs on PaaS public clouds for creating, packaging, distributing and managing integrations between cloud-based and on-premise ERP, CRM and other applications. Scribe Online also supports collaboration between IT, integrators, VARs and other stakeholders.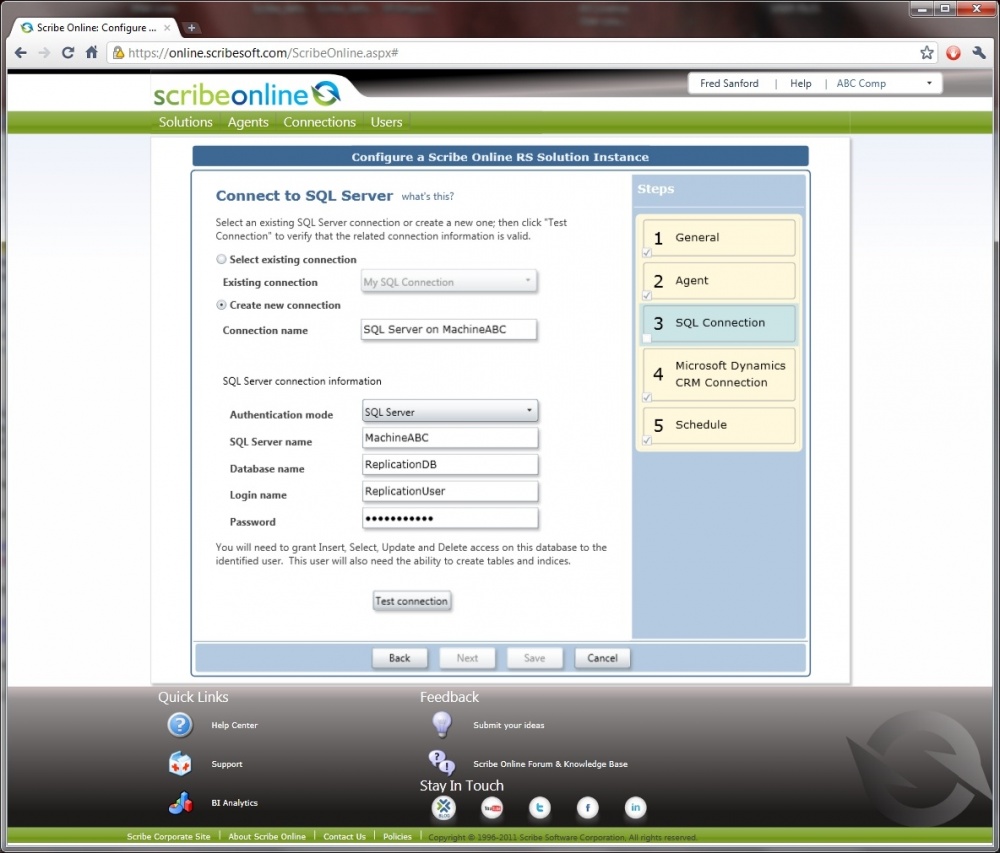 Scribe Software is taking aim at providing mission-critical integration for hybrid clouds. Scribe Online is a multi-tenant infrastructure platform that runs on platform-as-a-service (PaaS) to connect cloud-based apps with on-premise resources. "We're the data integration layer that runs as a 'data-as-a-service' capability," Scribe CEO Lou Guercia told IDN.
Learn More, Get a Free Trial for
Scribe Online For Hybrid
Cloud/On-Premise integration
For now, Scribe Online sits atop the Microsoft Azure PaaS. The underlying architecture will allow Scribe Online to be ported to other PaaS providers, including Amazon EC2, Force.com and others, Guercia added.

"Cloud adoption has moved faster than anyone expected," Guercia said. "So, we see a phenomenal opportunity around hybrid data integration, sharing data across cloud and on-premise apps." Over the next five years, allowing customers to share data and connect applications across on-premise and cloud "will be the most valuable cloud integration problems to solve," he added.

The company is now rolling out its Scribe Online Replication Services to address just this on-premise/cloud integration issue, Guercia said. The SORS, which supports data replication, migration and integration services, allows customer to:
Access and analyze cloud-based data with advanced reporting tools including SQL Server Reporting Services (SSRS) and Microsoft Excel
Generate data cubes using business intelligence tools such as SQL Server Analysis Services (SSAS)
Merge CRM data with other on-premise enterprise information
Deliver business intelligence (BI) to key constituents and business users without requiring direct access to the application
Automatically create an archive of data to meet compliance and governance

The SORS service is built upon an application-agnostic engine, with connectors for specific applications. At present, SORS has a connector for Microsoft's just-released Dynamic CRM Online 2011. In July, a connector for SalesForce.com will ship with a toolkit for other business and productivity applications, Guercia added.

"There is a rush of new public cloud services and applications coming into companies. Not just SalesForce, but email, web conferencing, CRM, NetSuite and more," Guercia told IDN. "Scribe Online will ship a connectors developer kit this summer to let IT, system integrators and VARs work on those connectors."

To tie the cloud to on-premise resources, Scribe Online uses a rich 10MB agent on the customer network, placed behind the firewall. "That small agent is doing all of the connectivity between the on-premise based data and apps and the cloud services they want to integrate with," Guercia told IDN.
"We see a phenomenal opportunity around hybrid data integration, sharing data across cloud and on-premise apps."
Lou Guercia
CEO and President
Scribe

SI, VAR, Customer Collaboration
for Hybrid Cloud/On-Premise Integration
Scribe Online also intends to leverage its platform and tools to partner with SIs and VARs on new cloud integrations.

"For these new hybrid environments, we think those SIs and VARs that did initial on-premise implementation and deployment of applications like CRM and ERP are important players," Guercia told IDN. "With our approach, they can play a key role in working in between the cloud application providers and the on-premise IT, in a collaborative and coordinated way."

In a business process optimization (BPO) project, for example, Scribe Online allows a virtual team to work together. The system invites team members who work and collaborate on an integration project. Then, when team members are done, they can be uninvited and no longer have access to the integration, Guercia explained. "Scribe Online has multi-account management, allowing experts only to access the integrations that are needed."

To further promote collaboration, Scribe Online provides wizard-based tools that quickly create connectors (point-to-point) or packaged (point-to-multipoint) solutions. "We can disguise a lot of the complexities using modern tools like .NET and Silverlight underneath, so if an SI or a team of partners know the target and source, they can connect to the applications and the data, design a wrapper, and they are practically done."

Guercia is well aware Scribe Online faces some tough competition in the cloud integration space, including Boomi (now owned by Dell) and Cast Iron (owned by IBM). Nonetheless, he is strongly convinced Scribe Online has advantages.

"While we have a number of competitors, we don't feel they are addressing the special needs of enterprise IT, or partners like SIs and VARs, for hybrid cloud solutions," Guercia told IDN.

"I've spoken to many analysts who say the stage is set for moving cloud integration beyond the build-and-deploy adapter model to a more complex way of connecting all sorts of cloud resources to important on-premise applications and data," Guercia added. "When building Scribe Online, we utilized the best collaborative and social technologies to allow our customers and partners to work together efficiently and globally."

Scribe's extensive partner network was a key consideration in the development of the platform. The multi-tenant framework enables partners to create and manage multiple solutions and customers from one dashboard. Partners leverage an intuitive user interface to create complex integration, migration, and replication solutions, as well as package and deploy those solutions, creating efficiencies within their businesses.

At least one analyst is bullish on the Scribe Online approach. "The next evolutionary phase in [cloud] integration is happening now, bringing together the people, processes, and cloud IT around new business ideas. Collaborative, cloud-based integration platforms such as Scribe Online can play a role in accelerating the development of cloud IT in this complex, emerging environment," said Bill McNee, Founder and CEO of Saugatuck Technology.