Alteryx Powers Location-Based BI with Wizards, Cloud and Data Indexing
Alteryx is enhancing its DemographicsNow BI platform with six new web wizards that will easily allow businesses to add geo-location and spatial dimensions to business intelligence and analytics solutions. The Alteryx capabilities, powered by powerful indexing technologies, are available from the Microsoft Windows Azure cloud.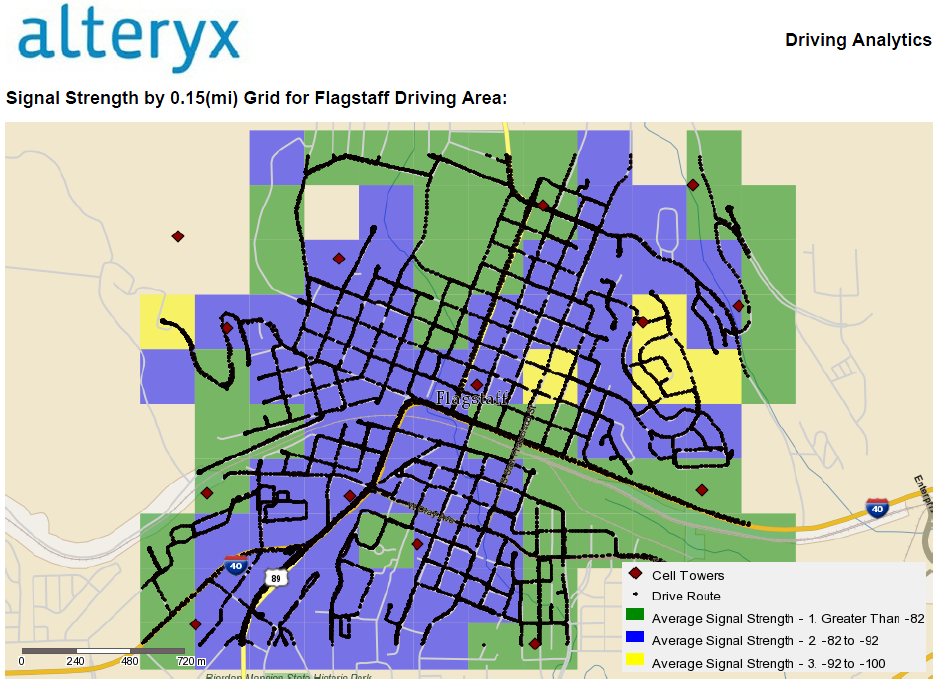 Alteryx is enhancing its DemographicsNow BI platform with six new web wizards that will easily allow businesses to add geo-location and spatial dimensions to business intelligence and analytics solutions. The Alteryx capabilities are available from the Microsoft Windows Azure cloud.

Alteryx provides location-based dimension to BI without requiring specialized programming skills, Alteryx CEO Dean Stoecker told IDN. That is due, in large part, to powerful under-the-cover indexing technologies, as well as support for standard web interfaces and APIs.
Tour the Alteryx DemographicsNow BI Features here
"We're designing a more adaptive approach to BI, by offering less complicated and less expensive ways to design, develop and deliver BI," Stoecker said. "We hear from lots of customers that they are telling their technology departments, 'I need more than the old dashboards and I can't wait three to four months for you to show me something," Stoecker said.

"There is a big shift going on from the world of stack vendors and long development cycles to a more iterative and responsive approach to BI," Stoecker told IDN. Mobile BI is another factor.
"Mobile users don't always just want the same type of dashboard on their iPad," Stoecker added. "Users are actually seeing that data about where things and people are located are important parts of decision-making," Stoecker added.

Some customers looking for location-based BI also want better ways to bring analytics into current enterprise software, such as Business Process Management and event CEP (Complex Event Processing.).

Inside Alteryx's Geo-BI Platform
A Code-Free 'Palette' of Tools and Wizards
To respond to what Stoecker sees as a growing demand for easy-to-implement geo-centric BI, Alteryx lets devs use the cloud-based SaaS platform to design, build, test and deploy solutions – with very little, if any, coding. The solutions can be done from scratch, use pre-built templates or wizards, or leverage web services and APIs to tie BI in with existing databases, applications and dashboards.

"We think of Alteryx as a canvas with a palette of tools, rather than a development environment in the strict sense," he said. "By that I mean that we don't require a lot of complex programming. Instead, IT can use wizards and simple web services and APIs to construct data flows, workflows, ETL, data quality, integrations, joins and even UI visualizations."

Under the covers, the Alteryx platform is powered by C/C++ engines and simple web services that can call hundreds of data flows and processes. The platform is designed as much as possible to allow IT and BI professionals to configure, not program, geographic BI solutions. "Our approach at Alteryx looks to change the approach from writing tons of code to just easily integrating processes and analytics."
"Business intelligence users are seeing data about [location] are important parts of decision-making,"
Dean Stoecker
CEO
Alteryx
Driving the Alteryx palette, the company has deployed an extraordinarily fast indexing scheme powered by a specially-designed indexing database that has a limit of 2 billion rows. "This is a real power tool, not just a Google map API," Stoecker said. In a live demo for IDN, he was able to do a location analysis on a dataset of more than 100M households, returning 35,000 complete records that matched the criteria in just a few seconds.

Stoecker related several examples of how customers are putting the Alteryx technologies to business use.

He related a case where a retailer was looking to figure out where to open a new retail store. "The customer wanted to know 'How can I determine if my sporting goods store will do well in this location?' Stoecker added, "It's not just about seeing if there's lot of traffic, I want to know if it's the right kind of traffic. What kind of neighborhood is it? Are there schools or even soccer fields nearby, where kids the right age live and play."

Alteryx's Latest Geo-BI Wizards
For Retailers, Restaurants, Real Estate, Etc.
The Alteryx wizards provide easy access to BI / analytics tools via a form- and menu-based interface. SaaS users can change process inputs, parameters, and output selections for a ready-made solution, all without the need to build, host and operate their own custom-made Alteryx modules. They are designed for retailers, restaurants, real estate brokers, and others interested in geographic BI include:
ZIP Territory Creator – Lets users start with a ZIP code and create trade areas based on user-specified minimum and maximum household counts
Create Trade Areas Lets users target new customers by defining a trade area polygon around current store locations that reflect a specific number of households
Market Score Card This capability ranks geographies based on new growth opportunities by modeling an area's target workforce densities and environmental conditions
Potential Site Analysis Lets companies evaluate potential new locations by calculating the best blend of demographics, competition, and traffic volume for a given business model
Media Evaluation Provides data to optimize advertising spend by comparing an area's consumer profiles or segmentation clusters to the available media vehicles and content
Sister Store Correlation Allows users to leverage a "fast benchmark" method comparing the demographics of potential new sites to comparable existing sites for fact-based sales estimates

Stoecker expects Alteryx customers will use the new wizards to analyze socio-demographics, neighborhoods, lifestyles and even behaviors to locate and target prospective customers, uncover market opportunities, and conduct high-level predictive analytics.

Alteryx's DemographicsNow.com is available as a SaaS (software as a service) subscription-based online service that gives novice and expert users fast access to the website's real-time interactive maps, detailed summary and comparison reports, U.S. Census data, and many authoritative third-party data sources.

Subscriptions to DemographicsNow start at $159 a month, including updates to core data sources.