Fiorano Integration Platform Offers Lifecycle Support for 'Dynamic' Enterprise Services
Fiorano is bringing together the best of SOA, APIs, microservices and real-time data architectures into a unified platform for code-free integration aimed at digital transformation projects. IDN looks at how Fiorano delivers customers an "infrastructure for dynamic enterprise services."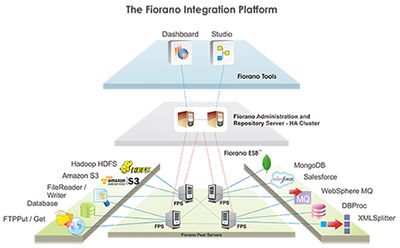 Fiorano is bringing together the best of SOA, APIs, microservices and real-time data architectures to provide a unified platform for code-free integration to meet the needs of digital transformation. The result is what Fiorano calls "infrastructure for dynamic enterprise services."
Under the covers, the Fiorano Integration Platform is re-engineered with a microservices architecture to deliver a seamless rich lifecycle approach. The approach combines several major components that work together to design, configure and run data flows and integrations.
Among them:
* Fiorano Studio allows end-users to rapidly compose enterprise-scale, interactive business-solutions in the form of event-driven distributed business processes. With Fiorano Studio, the logical application design is mapped directly to the physical implementation, making the development process easier and more intuitive than that of conventional integration suites.
* Fiorano ESB is an Enterprise Service Bus (ESB) which is now built on a microservices architecture. The ESB integrates applications and business processes in real-time. It also provides a federated bi-model approach to integration, which obviates point-to-point approaches to support any-to-any integration for heterogeneous apps, databases, cloud and other systems. Projects support light-weight, scalable and real-time information across the enterprise.
* Fiorano Adapters are the keys to agile interoperability across a wide variety of applications and technologies. The adapters, working in conjunction with the Fiorano Server, provide simple installation, deployment, and configuration of "no-code" connectivity. There is a large catalog of adapters available.
Fiorano also supports cloud, mobile and API Management.
Abhishek Merve at Fiorano described how the pieces work together to accelerate design and go-live deployments of integrations:
Accelerated development requirements, 3Vs of big data (volume, variety and velocity) combined with new technologies including cloud & mobile computing are pushing modern enterprises to their limits. Integration requirements have grown dramatically as organizations need to both reuse proven legacy assets while concurrently upgrading their IT assets.

The Fiorano Integration Platform enables organizations to overcome the complex integration hurdles and allows seamless communication among applications, databases, partners, suppliers, employees, stakeholders and more, delivering unprecedented value to the enterprise.
One Fiorano user is mGage, a global mobile engagement provider looking to deliver a scalable and user-friendly turnkey mobile CRM experience. Fiorano is improving the performance and efficiency for mGage's SaaS, cloud-based technology that enables third-party gaming brands to personalize mobile communications for the omni-channel consumer.
mGage supports more than 800 enterprise customers and 550 carriers around the world, and needed to improve its SaaS system to scale quickly and efficiently, according to mGage's Arun Subramanian, vice president of technology & operations.
"As we move to an Omni-Channel approach we needed a platform that can scale up and support across these channels seamlessly," Subramanian added. "The key challenge is, always, to ensure speed and efficiency." As a example, he continued, a few years ago, when the digital boom started, the benchmark for OTP (One-Time Password) delivery was 30 seconds but now mGage has been able to reduce the benchmark to 5-10 seconds.
It was also easy to design – both for internal mGage staff and outside customes, he added. Thanks to Fiorano's code-less integration design tools, the solution took less than 4 months to deliver. After only 6-8 weeks of rigorous testing and staging, it was ready to launch out to mGage customers, Subramanian said.
The issues mGage faced in overcoming latencies for integrations are common problems for companies – especially when some parts of the infrastructure are located (or run) in the cloud.

Fiorano's Merve posted a blog to highlight issues that can arise when running integrations in or across a cloud environment
The explosive adoption of cloud-based applications by modern enterprises has created an increased demand for cloud-centric integration platforms. The cloud poses daunting architectural challenges for integration technology like: decentralization, unlimited horizontal scalability, elasticity and automated recovery from failures.
The Fiorano platform also offers robust development with a highly integrated approach. mGage India has now moved from multiple product lines for various channels such as Voice, Email, SMS, OTT etc. to a single Omni-Channel communication platform that can be integrated with various customers according to their needs.
Features of Fiorano Integration Platform Support 'Dynamic Enterprise Services'
The Fiorano Integration Platform brings together many valuable capabilities to deliver an agile and reliable integration lifecycle for adopters - from design, build, deploy and manage. Here is a list of some of the more noteworthy technology architectures and services Fiorano designed to deliver support for dynamic enterprise services.

Integration, Choreography and Service Creation Environment
Rich set of connectors to integrate, route, transform XML and non-XML data across multiple protocols including REST, JMS, HTTP, FTP, email, and more
Graphical microservice creation with support for native services in Java, C, C++, C# and various scripting languages
Intuitive microservice-assembly and choreography with a late-binding, runtime-extensible application architecture and flexible exception handling
Powerful Service-Deployment and Runtime Control
Integrated event-interception with the ability to pause and resume processes in practice, allowing easy runtime debugging across multiple machines
Ability to distribute a process across multiple machines from a central location, without re-engineering the process
Configuration-based Integration process composition with little or no coding
Centralized web-based console to monitor and manage services and applications
A distributed peer-to-peer architecture delivers high performance, scale and reliability.
Self-healing application networks with service and server-level failover (for 24x7 availability). There is no single point of failure or centralized control/data servers
Reliable Security, Governance, Lifecycle Management and Versioning
Standards-based heterogeneous SOA. Further, a document-centric, REST-enabled SOA supports dynamically extensible applications and processes
Distributed security model with multiple levels of authentication and authorization
Controlled deployment of services across network end-points, with automatic "one-click" transitions across the software lifecycle (development, QA, staging, and production)
In-built governance for distributed services with centralized policy management
Mediates between multiple protocols including HTTP, FTP, SMTP, JDBC, multiple JMS (Java Messaging) Servers including FioranoMQ, IBM MQSeries and TIBCO, TIBCO/Rendevous, MSMQ and more
Visual transformation and mapping tools with support for XSLT, XPATH and Content-based routing
Support for Web-Services standards including SOAP, WSDL and UDDI
Readers can request a Fiorano demo here.