Amazon QuickSight Splashes into Cloud-Based BI Pool; Lowers Technical Barriers, Prices
The cloud-based BI sector is still shaking from word that Amazon Web Services is lowering the technical barrier – and the price. See how Amazon QuickSight aims to leverage the cloud for its low-cost, easy-to-use, business intelligence service.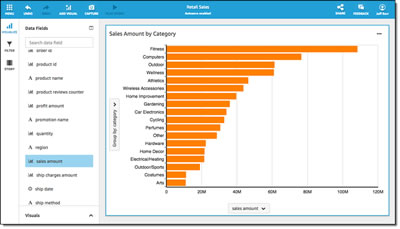 The cloud-based BI sector is still shaking from word that Amazon Web Services is lowering the technical barrier – and the price. And still, there are some signs that Amazon's entry may boost all players in the space.
Amazon QuickSight aims to be an easy-to-use, high-performing cloud-powered business intelligence service. Just about any worker, regardless of technical skill, will be able to do the three key tasks of BI – build visualizations, perform ad-hoc analysis, and obtain easy to discern business insights from their data.
Amazon QuickSight launches just as more companies continue to chase after better insights, but too often discover that at times BI solutions can require teams of data engineers to spend months building complex data models – before ever generating a report.
Just as eye-popping is the suggested price. Amazon QuickSight starts at $9.00 per user, per month.
The launch of Amazon QuickSight comes after long and loud customer requests for an AWS solution that could lower the bar on BI, according to AWS vice president of database services Raju Gulabani. "After several years of development, we're excited to bring Amazon QuickSight to our customers – a fast and easy-to-use BI service that addresses these needs at an affordable price," Gulabani said in a statement.
Jeff Barr, Chief Evangelist at Amazon Web Services, explained the thinking behind Amazon QuickSight in a blog post
In the past, Business Intelligence required an incredible amount of undifferentiated heavy lifting. You had to pay for, set up and run the infrastructure and the software, manage scale (while users fret), and hire consultants at exorbitant rates to model your data. After all, that your users were left to struggle with complex user interfaces for data exploration while simultaneously demanding support for their mobile devices. Access to NoSQL and streaming data? Good luck with that!
Amazon QuickSight lets users get started in minutes thanks to the following features:
Access to popular on-prem, Amazon data sources – QuickSight can access data from many different sources, both on-premises and in the cloud. It works with on-prem data in MySQL, Oracle, SQL Server, PostgreSQL and flat files. Not surprisingly, Amazon QuickSight automatically discovers data sets stored in the many popular AWS services, including Amazon Redshift, Amazon RDS (all engines). Amazon S3 (Simple Storage Service), Amazon DynamoDB, Amazon EMP (Elastic MapReduce) and Amazon Kinesis.
Easy access to third-party cloud sources – Amazon offers connectors to allow access to data stored in third-party data sources such as Salesforce.
Rapid performance – To deliver a fast, interactive data visualization experience, QuickSight is built from the ground up to run in the cloud. It uses a high-performance architecture dubbed SPICE (the Super-fast, Parallel, In-memory Calculation Engine). It also integrates automatically with AWS data services, enables organizations to scale to hundreds of thousands of users, and delivers fast and responsive query performance to them via SPICE's query engine.
Ease of use – QuickSight auto-discovers popular AWS data sources and makes it easy to connect to them. As users select tables and fields, QuickSight also recommends the most appropriate types of graphs and other visualizations.
Collaboration – Users can share your visualizations with your colleagues and you can assemble several visualizations in order to tell a story with data. You can even embed your reports in applications and websites.
Scale for users, data volumes – QuickSight can scale to handle hundreds of thousands of users and terabytes of data per organization.

While Amazon QuickSight includes some data visualization charts, AWS expects higher-caliber data visualization to come from its BI partners, And this is where existing BI vendors are set to potentially win – not lose – from this heavyweight newcomer in their space.
"Amazon QuickSight provides a simple SQL-like interface to query the data stored in SPICE so that customers can continue using their existing BI tools from AWS partners like Domo, Qlik, Tableau, and TIBCO while benefiting from the faster performance delivered by SPICE," Amazon added in a statement.
One AWS BI partner already sees the upside. At TIBCO, Karl Van den Bergh, vice president of product, cloud and alliances in the analytics group said in a statement: "The launch of Amazon QuickSight with the SPICE engine gives us an opportunity to reach even more customers. We look forward to expanding on our existing relationship and enabling customers to deliver fast insights across even more AWS data sources."
Learn more about Amazon QuickSight here