Dell Teams with Cloudera, Syncsort to Simplify 'ETL for Hadoop' Architecture
Dell is working with big data pioneers Cloudera and Syncsort to co-design an easy-to-adopt ETL-to-Hadoop solution that streamlines major parts of the lifecycle – planning, design, construction and deployment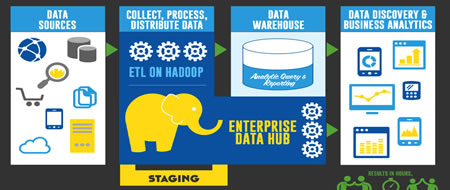 Dell is working with big data pioneers Cloudera and Syncsort to co-design an easy-to-adopt ETL-to-Hadoop solution that streamlines major parts of the lifecycle – planning, design, construction and deployment.
The project, dubbed the Dell | Cloudera | Syncsort Data Warehouse Optimization – ETL Offload Reference Architecture, aims to simplify the extract, transform and load functions of data, letting companies more easily prep it for reports, query or other analysis.
In specific, the Dell | Cloudera | Syncsort reference architecture removes the tedious and time-consuming task of having to assemble and configure a variety of stand-alone open source and commercial big data technologies. The partners say it provides "a reliable, pre-integrated, tested configuration." It is comprised of Dell PowerEdge hardware, Cloudera Hadoop distro and Syncsort DMX-h data integration software that can run ETL processing natively in Hadoop.
"Dell and Cloudera continue to jointly bring to market breakthrough big data and analytics solutions that deliver on those needs. Our new solution, which now incorporates Syncsort, will bring the power of big data insights to a whole new set of users who were once unable to justify the costs and complications of previously available commercial solutions," said Jim Ganthier, vice president and general manager of Dell's Engineered Solutions and Cloud in a statement.
To speed and simplify big data adoption, the Dell | Cloudera | Syncsort Data Warehouse Optimization – ETL Offload Reference Architecture delivers these benefits:
Cuts project complexity, design times. The integrated solution is designed reduces the time spent on design by 53 percent, and enables 60 percent faster ETL jobs overall when compared to a do-it-yourself open-source solution.

Once designed, faster time to deployment: Users can more quickly develop and deploy Hadoop ETL jobs, reducing the time it takes to design an ETL job for performing data validation by 55 percent, according to Dell's stats.

Customization: The reference architecture is easy and intuitive to integrate and deploy, cutting down on IT setup and management tasks.

Cost savings: Customers can save up to 76 percent on ETL administrative costs -- compared to 'do-it-yourself' open-source solutions, Dell noted. Additionally, by offloading the data transformation to Hadoop, customers can reduce transformation costs and reclaim data warehouse capability, the company added.
The Dell | Cloudera | SyncSort partnership is the latest multi-vendor push to deliver easier-to-implement Hadoop solutions. This wave of friendlier Hadoop architectures, patterns and appliances continue to gain traction among providers, as businesses keenly interested in adopting Hadoop, continue to complain about complexity and inability to locate affordable talent.
Christy Wilson, a guest blogger for Syncsort, echoed this sentiment in a recent blog post:
Getting Hadoop started can be enormously expensive and time-consuming, mostly because it takes a lot of skill, much of which isn't readily available on the open market.
Tacking this skills gap, is of the main goals of the Dell | Cloudera | SyncSort partnership project. "The integrated Hadoop ETL solution allows entry level technicians – after only a few days of training – to perform the same tasks that Hadoop specialists perform, often even more quickly, " according to one project whitepaper.
In fact, Dell reported on a benchmark, where an entry-level technician and an expert-level senior engineer run the same workload on the same systems. The results, audited by Principled Technologies in a report, indicated that an entry-level technician created ETL jobs with the joint solution 60 percent faster than an expert level senior engineer running the same scenario with do-it-yourself, open-source ETL solutions. Additionally, the entry-level technician was able to streamline ETL design by 53 percent, giving businesses the equivalent of four days back.
Syncsort Acquired by Clearlake Capital
On the heels the Dell / Cloudera / Syncsort partnership, Syncsort execs reached a definitive agreement to be acquired by private investment firm Clearlake Capital Group, L.P. The purchase also follows announcement of Syncsort's earlier alliances with other big-name, big data players, including Amazon, MapR, Splunk and Tableau.
"Clearlake's proven track record in software investing and substantial resources will be instrumental in our continuing to deliver best-in-class software to our customers and partners," said Syncsort CEO Lonne Jaffe in a statement. "We are really looking forward to partnering with Clearlake to continue to grow the Company, both organically and through acquisition."
"As large enterprises grapple with the demands of growing data volumes, they need a proven independent framework for data integration and transformation. . . We believe Syncsort's software offerings are well-positioned to address these significant market trends around big data," added Clearlake's managing partner Behdad Eghbali.