Crawford & Company Boosts Customer Service with Appian's Mobile, Social BPM
Claims management provider Crawford & Company is using Appian's BPM Suite to speed up the processing of customer claims, support a worldwide customer portal and deploy BPM to mobile users.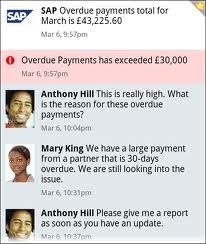 Claims management provider Crawford & Company is using Appian's BPM Suite to speed up the processing of customer claims, support a worldwide customer portal and deploy BPM to mobile users.
Over the past three years, Crawford has crafted a plan to bring together BPM, applications and data into a standard global enterprise portal. To that end, Crawford has designed its Crawford's Command Center to improve customer service by giving clients real-time information on claims and KPIs (key performance indicators).
Crawford's latest offerings include a new RiskTech risk management information system for its workers compensation customers and a cloud-based Enterprise 2.0 social networking program to enable employees to collaborate to solve problems. Appian BPM Suite, with its ability to support web and mobile users with on-premise or cloud options is proving a key part of Crawford's integrated strategy.
"The Appian BPM Suite, with its mobile and social capabilities, is truly an enabler that will change the way we work with our business partners and ultimately how we service our clients," said Brian Flynn, Crawford's global chief information officer. Initially, Crawford will use it to drive operational efficiencies, but ultimately the company will use it to help us develop new services and solutions, he added.
Appian was first introduced to Crawford during development efforts for repairNet, the Company's managed repair service in the U.K. "We decided to acquire Appian for global deployment after reviewing the success of the repairNet project," Flynn added.

Core features of the Appian BPM Suite include:
Social BPM/Collaboration:
Leverage the collective knowledge of your enterprise to gain efficiency and improve the quality of your processes through Appian's revolutionary Social BPM interfaces. Moreover, Appian supports threaded discussions to help workers better capture knowledge and encourage the exchange of best practices.
Integration-Ready Architecture (SOA, RDBMS, Processes):
Appian's web services based architecture can connect to any RDBMS data sources, allowing companies to directly orchestrate and manage enterprise data for business processes. Appian also connects to SOAP / REST services to integrate SOA-enabled systems into existing business processes using a simple drag-and-drop process. Appian also supports standard BPMN to capture process models and definitions, simplifying communication between business and IT.
Mobile Device Support:
Supports native mobile BPM support for Apple iPhone, iPad, iPod Touch, Google Android and RIM BlackBerry devices. A native web client can also be utilized by all modern mobile device platforms with a web browser.
Dashboard and Business Activity MonitorsAppian Portal supports point-and-click dashboard design and comes with more than 17 packaged portlet channels to help easily configure unique dashboards for specific processes and roles. The Appian BAM provides real-time and detailed analysis of process and task performance across every process automated in the Appian BPM Suite. Aggregate views can provide clear insights into the inefficiencies and bottlenecks measured against key performance indicators (KPIs).
Forms Design:
Appian Forms Designer is a web-based design environment which allows designers to quickly create and publish rich web forms. Forms may include event actions, complex formatting, and custom JavaScript to create powerful and dynamic forms interactions.
Repositories (Content & Rules):
Appian's content repository organizes, secures, and tags your content with appropriate metadata. Full-text search ensures users can quickly find their key documents to share in their processes and tasks. Business Rules Repository: Appian's native business rules repository provides a hierarchical and security controlled storage for all rules. Each rule is individually version controlled with the ability to roll-back to early rule versions.
"Appian delivers a new, faster, more flexible way to create and extend enterprise applications, and our mobile and social BPM leadership increases the number of people who can directly interact with key organizational processes," said Matthew Calkins, president and CEO of Appian, in a statement.